Submitted by

At the Ready Ma...

on Tue, 08/04/2015 - 22:23


By David Dillinger, Staff Writer
While still suffering from the deepest recession in decades, Chiefs often find traditional budget wrangling with city leaders even more challenging than in years past. City Councils continue to suffer from a decreasing budget and are forced to make difficult decisions. In turn, they are forced to trim public safety budgets as well, leaving Chiefs with increasingly difficult decisions. Do we scale back Training? Withhold merit pay increases or cost-of-living adjustments [again]? Slash 401k contributions? Or do we continue to use antiquated out-of-date even second-hand equipment with an ever increasing maintenance requirement? Or the worst decision of all, do we layoff...
These problems are ever compounded by increasing petty crime, social and racial unrest, an uptick in anti-Law Enforcement sentiment as well as the global Jihad imposed by ISIS/ISIL and the threat it imposes.1 In short, most of your departments are doing the job understaffed, underfunded, under trained, underpaid, under equipped and overworked. All that is a recipe for disaster, right? Now you're all thinking, "tell us something we don't know!"
OK. Did you know there are a plethora of technologies out there that can increase your effectiveness, performance, situational understanding, minimize risk, manage resources, improve command and control, and improve accountability? Did you know that many of these solutions are affordable? Did you know that in most cases, these technological advancements pass the common sense test where cost benefit analysis is concerned?
Hopefully by the end of this article, I'll have helped you think outside the box and see how these and many other currently available technologies can make a difference in your departments, neighborhoods, and benefit your families and yourselves.
The role of Incident Command is to assess the situation, manage the incident, ensure safety, establish command, control and communications, and request resources. By breaking incident command into its basic elements, we can better understand how to accomplish this role effectively, efficiently and safely.
   a.   Gain situational understanding of, stabilize, and manage the Incident
   b.   Establish and maintain command and control
   c.   Establish and manage internal/external communications interoperability including information management (Ability to communicate within and across agencies and jurisdictions through the use of common capabilities and terminology)
   d.   Ensure the safety of both responders and the public and minimize damage to property, including hazard identification and mitigation.
   e.   Coordinate for and manage incident resources (including multi-agency coordination)
   f.   Loss Control/Financial management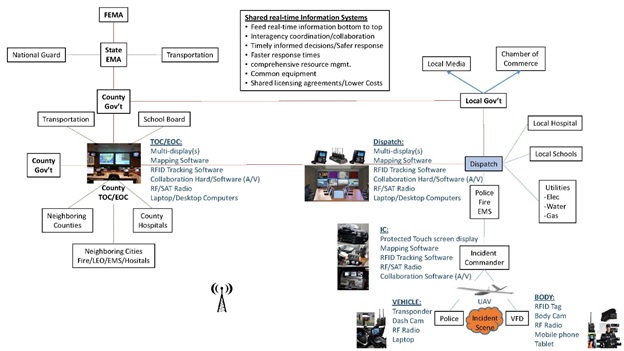 The role of the Tactical Operations Center (TOC), Crisis Action Center (CAC) or Emergency Operations Center (EOC) is to support the Incident Commander and the municipality by managing every aspect of emergency support minus the incident itself. A look at the basic elements here is useful in gaining a better understanding as well.
   a.   Preparedness (planning, organizing, training, equipping, exercising)
   b.   Command, Control, Coordination and Management including Accountability, Safety and Protection (the Incident Command System (ICS), Multiagency Coordination Systems (MACS), and Public Information)
   c.   Integrated primary and secondary Communication Interoperability including information management (Ability to communicate within and across agencies and jurisdictions via voice, data, or video-on-demand, in real-time)
   d.   Manage the Common Operating Picture (Holistic view of the incident and the second, third and fourth order effects used to inform and enable leaders at all levels to make effective/timely decisions)
   e.   Comprehensive Resource Management (coordination, oversight, and processes necessary to provide timely and appropriate resources during an incident)
Now that we have broken these down to their basic elements we can begin to look at ways to accomplish each of them more effectively. Obsolete technology, budgetary restraints and Jurisdictional information silos can cause communication breakdowns and poor situational management for law enforcement, Fire services and others in public safety. Collaboration, not just communication is key and there are many ways to accomplish it.
Near real-time integrated voice, video and data collaborative applications are used every day in every aspect of our daily twentieth century life such as texting, instant messaging, point to point, video chat and video conferencing apps. Video conferencing apps, such as 'ooVoo' or 'Hangouts' allow you to video chat with up to 10-12 friends or 'Viber' which allows up to 40 friends. Replace the word with fellow responder and then we are on to something. These apps are becoming essential in twentieth century command and control as well. Network digital audio/video communication and surveillance provides near-real-time information for timely accurate decision making, sharing plans, resources and updates instantly and some even provide AV analytics that can be used for education and training during after-action reviews. Imagine getting live video feed from 'inside the fire' or using a small unmanned aircraft (drone as they are commonly known) mounted thermal viewer capable of sharing plans, resources and updates instantly. The uses are endless and enable better planning, training, situational awareness and response capabilities to emergency situations, and can also improve agency-specific day-to-day standard operating procedures.
Take a minute and read some of the articles we attached. The nineteenth century is gone, a new age of technology and a new way of thinking is upon us. Don't believe me, just watch your kids. I've used computers in my professional and personal life for years but my fourteen year old is far more tech-savvy than I will ever be. My wife has given my five and six year old boys tablets so they can learn in an "interactive collaborative environment" and they do! If that impresses you like it does me, than like me, you're thinking is old fashioned and you should start listening to and watching how the younger members of your department or team communicate electronically. We 'the Public Safety community' need to stop thinking like 'Fred Flintstone' and start thinking like the 'Jetsons'. Tech is the key to twentieth century information management. How Technology aids in public safety
IBM Smarter Talks:
Public safety technology aids in crime prevention and investigation
Tech communication advancements and possible solutions
How Mobile Devices Are Transforming Disaster Relief and Public Safety
By:
Darrell M. West
and Elizabeth Valentini
Top Trends and Topics in Public Safety Tech for 2014
Posted by
John Kedzierski
in
Fresh Ideas in Public Safety
on Jan 29, 2014 1:04:00 PM
New technology aids public safety effort
By
Daily Globe News
on Nov 25, 2010 at 9:57 p.m.
In part two we look at some examples of high-tech solutions that our team came back with from INFOCOMM 2015 that can assist in keeping your incident command or TOC in reaching maximum effectiveness and efficiency. We have matched these to the key elements of incident command.