Submitted by

At the Ready Ma...

on Tue, 06/30/2015 - 21:45
by David Burke

In 2010, two Marines, Jake Wood and William McNulty, watched the devastation in Port-au-Prince unfold following the massive earthquake. They watched and saw what many military veterans see in a disaster zone – a familiar scene. Not unlike a combat zone, disasters are chaotic, resource-constrained environments. Environments; however, that military veterans are uniquely qualified for.
Wood and McNulty put a small eight-man team together, consisting of other military veterans, a few firefighters, and other medical professionals, and traveled to Port-au-Prince to provide immediate aid to those affected. After several weeks, they realized they were on to something. By pairing the knowledge of expertise of first responders and the experience and skills of military veterans, they could build efficient and effective disaster relief teams. They called themselves Team Rubicon, a reference to Caesar's crossing of the Rubicon River – an action that displayed Caesar's commitment to his men and their task.
After Haiti, disasters continued to strike and Team Rubicon continued to deploy: an earthquake in Chile, floods in Pakistan, medical and refugee work in South Sudan, tornadoes in Tuscaloosa, tornadoes in Joplin. The model of pairing first responders with military veterans continued to prove itself. Now, five and half years after TR's founding, the organization has grown to upwards of 28,000 members and has deployed on nearly 100 disaster relief operations across the country and around the world.
Just last month, TR ran concurrent operations in Nepal, Oklahoma, Nebraska, Texas, and Colorado. All drastically different situations with a unique set of challenges and required skillset spread across the map.
In Nepal, relief operations were delayed due to poor aerial imagery and assessments, thanks to low cloud cover. So, TR deployed UAV technicians and pilots to gather imagery for our teams and partner organizations. The strong backs of military veterans and the intrepid skills of medical professionals hiked high into the Himalayas to provide immediate care to remote villages. Military veterans and medical professionals from Team Rubicon remove debris from a damaged community center in Nepal before providing medical relief following the 2015 Nepal earthquake.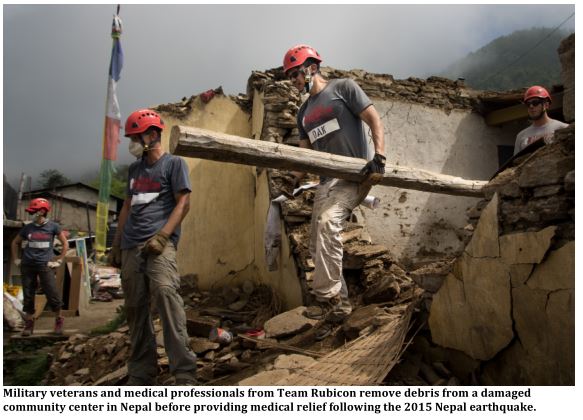 Sawyers and foot-mobile damage assessment teams removed debris and helped communities recover from tornadoes in Oklahoma, Texas, Nebraska, and floods in Colorado and Texas.
By providing all of our team members with baseline knowledge of the Incident Command Structure (ICS) and with numerous opportunities for chainsaw, heavy equipment, medical, and assessment training, we've built a large network of members across the country, ready to respond wherever and whenever.
But we are only as good as our members. This year, TR has responded to 17 disasters, well above our expected operational tempo. To continue providing immediate service to those affected by disasters, we'll continue training and seeking the best first responders and veterans this country has to offer.
About the Author
David is the Director of Field Operations for Team Rubicon USA, a first-response disaster relief non-profit that pairs the skills and experiences of military veterans with first responders and medical professionals to deploy domestically and abroad. Burke graduated from the University of Iowa where he majored in business, bicycle maintenance, and beer snobbery. He served just under 5 years in the Marine Corps as a logistics officer and he deployed to Iraq with RCT-8 and to Afghanistan with the 2d Marine Division. David finished active service as a Captain in Quantico, VA, supporting the M1A1 Tank and M88 Recovery Vehicle.