Submitted by

At the Ready Ma...

on Tue, 09/01/2015 - 03:17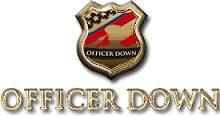 At the Ready had the recent privilege of learning about an amazing organization OfficerDown.US, and its passionate Executive Director, Jessica Langgin. Officer Down.US began in 2014, and, "provides a portal/website (similar to other online fundraising sites) where we host National fundraising campaigns for anyone in Law Enforcement, their families, coworkers, departments, or the community as related to law enforcement. Basically, if it can benefit Law Enforcement, we can host it. We need people to come to us rather than other sites to keep it in the community."
The OfficerDown.US mission is simple. The organization provides national reach, exposure, and access to fundraisers that benefit LEOs. Jessica discovered the need for this type of non-profit partnership after tragedy. "Our site began after our tragedy in Las Vegas, June 8, 2014. A friend and local entrepreneur wanted to make a donation and found it difficult with the only access being at a local bank, bringing an account number taken from the news or at best, being directed to a Paypal account. There were people all over who wanted to help and couldn't! National support for our Community was immense. Many would have liked to have been hands on but not everyone is able to participate in public volunteer work. Some people feel that donating a small amount is not worth going to a bank. We offer opportunity and the ability for everyone to donate, from anywhere and everywhere, at any time. We offer a centralized location for Law Enforcement Supporters to go to to help each other."
In addition to local organizations or bank accounts, OfficerDown.US provides a simple and national non-profit way to donate from anywhere, at any time, without having to be seen. Donations support the entire community and OfficerDown.US does not intend to interfere with local, in-place organizations; the goal is to enhance the local efforts, reach more people and at times, be more accessible. OfficerDown.US is a registered national nonprofit with a passion and a mission to provide a place where people can reach out to help those who have spent their lives helping others. Besides publishing the campaign, OfficerDown.US uses social media, including, but not limited to Facebook, Twitter, and Instagram to promote the effort.
Jessica is the wife of a recently retired 24 year veteran at Las Vegas Metro PD Sergeant in NV; Also co-admin of the 'Supporting Friends of the LVMPO Wives' page. "We are LVMPD LEO family for nearly 25 years. "To protect and serve" isn't just a job, it's a way of life Those who dedicate their lives to live by the code are our family. It's up to us to come together as a "crowd" to support the officers, the families and the departments who sacrifice so much to help others and preserve our community every day, every night. After all, we're all in this together."
OfficerDown.US is growing, and the news of their national outreach is catching on. "We receive many requests to start the fundraisers, however, in due time, we expect to only have to review them. We'd like to help. We publish (the campaign) on our site, and share the information on our Facebook page with 23K followers, Tweet, and Instagram. It would be of great help, if those who want to create campaigns contact us, so we can share the campaign information with the same enthusiasm. At a time like this and with the current climate of our nation, the supporters like to show their support through donations." If you visit the OfficerDown.US website, you can see the varied support. OfficerDown.US is also found within the national website legitimizing nonprofits, www.guidestar.org and many others. A general search on the Internet of "OfficerDown.US" reveals a plethora of information.
The organization doesn't charge for its services, however, the site "retains a minimal 5% which is very necessary and hasn't nearly covered our costs yet." As with other online fundraising sites, the credit card company charges 3% plus .30 for every transaction. Importantly, all donors making donations through OfficerDown.US receive an instant receipt with our IRS tax ID making their donation a write-off.
For more information, or to discuss a campaign, please contact the website, OfficerDown.US
Facebook : www.facebook.com/OfficerDownUS
Twitter: @OfficerDown1199
Instagram: instagram.com/officerdown.us/
Testimonials: officerdown.us/testimonials/