Submitted by

At the Ready Ma...

on Wed, 06/26/2013 - 22:57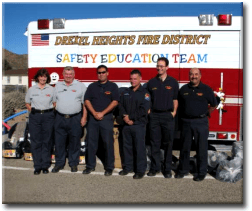 This year the Drexel Heights Fire District in Tucson, Arizona, is celebrating. Their public education manager and spokeswoman, Tracy Koslowski, has been named the 2013 Fire and Life Safety Educator of the Year. The award was presented at the National Fire Protection Association (NFPA) Conference in Chicago, and includes $1,000 for the Drexel Heights department to use for public education.


   In addition to this prestigious award, Tracy, who has 20 years of experience in the fire service, has received Employee of the Year awards for her work with her current district since 2003, and at Northwest Fire Rescue, where she worked for 7 years.


   Tracy continues a family tradition: her father and grandfather were firefighters for the Fire Department of New York. She has a degree in Fire Administration with a minor in Fire Prevention studies from Cogswell Polytechnical College. Tracy graduated Magna Cum Laude and was class Valedictorian.


   Nomination letters of support were submitted by her fire chief, her co-workers, the Pima Council on Aging, and the principal of Johnson Primary School. They detailed her commitment to teaching children and adults about critical home and life safety learning, and establishing positive education programs for the senior population in the Drexel Heights community.


   Tracy's co-workers eloquently stated her impact on themselves and others in their nomination letter:



"Since Tracy started the volunteer program in July of 2009, we have dedicated over 5,000 hours to public education programs and reached over 28,000 people. The programs we help with include home safety checks, fire safety trailer, classroom presentations including special needs groups, senior citizen fire academies, special events and so much more. Through working on these projects with Tracy our passions in helping others in the community have been deepened."


   To read the full nomination submission, please click here.