Submitted by

At the Ready Ma...

on Wed, 08/28/2013 - 21:28
by Dan Busse


   As first responders, we increasingly rely on cellular communications in the field for both voice and data. Whether for fires, search and rescue, HazMat response and identification, or for almost any incident, it's just assumed that out in the field we're going to have cellular service and Internet access.


   Not having that access can significantly impact our ability to access time-sensitive information in emergency situations. It can reduce the coordination between on-the-scene activities and off-site agencies or other involved parties. In short: It can hamper our ability to effectively provide emergency assistance.


   That's why ensuring reliable cellular signal is a top priority whenever and wherever we send a crew out into the field. Unfortunately, this isn't always easy or even possible. So it's important to stack the odds in our favor.



No reliable cell signal – that's a problem


   There are a host of factors that can impact cell signal strength. Hills and valleys are common features around our state of Missouri, and can cause cellular communications to be hit-and-miss. So can buildings where we sometimes set up our command center, and our own EM50 Mobile Command Center vehicle itself is almost impenetrable to cell signals.


   The EM50 is essentially a Faraday cage, or large metal box. The metal walls block radio frequency signals, leaving those working inside unable to access a useable cellular signal. This first became apparent when our fire department participated in a multi-agency training exercise in Eureka. MO. The National Guard was there, as were other state and federal agencies. We also had a technician from a major cellular carrier who was there solely to help with interoperable communications. It was very difficult to make a call from inside the EM50. We literally could see the cell tower up on a nearby hill. But there was no signal inside.



Finding the Solution


   For years I had been using a Wilson Electronics cellular signal booster in my personal vehicle. I had discovered Wilson boosters by happenstance while working at a remote Boy Scout conservation project with a Nebraska man who does professional installation of cellular towers. He had a Wilson system in his truck, and indicated that boosters are very common in rural Nebraska. He said Wilson boosters are the only way to keep customers happy with their cellular service as they drive across rural parts of the state.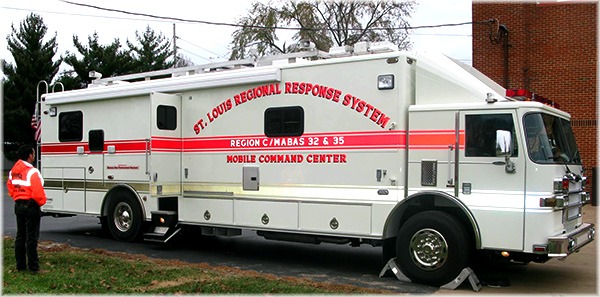 So the communications support volunteers outfitted the EM50 with a Wilson SOHO cellular booster kit. The system detects and collects signals outside the command center, amplifies them, and transmits them inside so those working there can make and receive voice calls as well as send and receive data. The system actually works bi-directionally, and boosts the signals back to the cell tower as well.


   The difference was obvious and immediate. In fact, there are times when we have a better signal inside the EM50 than we get while standing outside. And there have been several occasions when we worked in locations where there was barely a usable signal outside the vehicle, but we had a strong signal inside.


   Cell signal boosters, like the one we installed, are advantageous for a number of reasons. As noted earlier, they work for both voice and data. They work completely transparently; most people do not even know they're in use. Boosters are also carrier agnostic – meaning that they work with all carriers simultaneously. And because they are simply amplifying the existing signal, it's not necessary for users to synch or register their devices to the booster.


   These advantages come into play often because the EM50 is a regional resource; it frequently is driven to nearby counties to support other agencies with their operations. As long as there's a detectable signal to amplify, it just works.


   Wilson, as well as other companies, makes a complete line of boosters for use in buildings and vehicles. Some are designed for permanent installation, while some are designed for portability. And new boosters are adding 4G for even faster data service. We have been happy with the support that Wilson has provided in solving our coverage issues. Their products are designed and manufactured in the USA, and backed with great technical support.


   In our business, gaining the upper hand in any situation can be a life or death matter, and ensuring the integrity of our communications network is vital to that cause. Cell signal boosters have become a standard piece of equipment in our arsenal; I highly recommend they become part of yours.


Editor's note: The system in the EM50 uses the AG SOHO 60 booster, and also includes an omni-directional external antenna and one of Wilson's indoor panel antennas. The list price for this system is $639. There is another affordable option for other emergency vehicles. The most popular automobile/truck based booster system is the Sleek 4G booster, which has a retail list price of $199. This is a system where the booster is built into the phone cradle. The phone must be in the cradle for it to work, or, alternatively, a portable hotspot can also be placed in the cradle to boost that signal for multiple devices within range of the hotspot.



Dan Busse is a communications support volunteer with the Eureka Fire Protection District in Eureka, Missouri, near St. Louis. The department operates a regional Mobile Command Center, a specialized vehicle outfitted with computers and communications equipment that can drive to the scene of an incident and function as a communication and command post for first responders.