Submitted by

At the Ready Ma...

on Tue, 09/17/2013 - 02:18

At the Region
   At the Region is an ongoing feature that discusses the state-by-state training, certification and employment requirements of first responder departments across the nation. In this issue, At the Region looks at law enforcement requirements in Iowa, Kansas, Missouri, and Nebraska.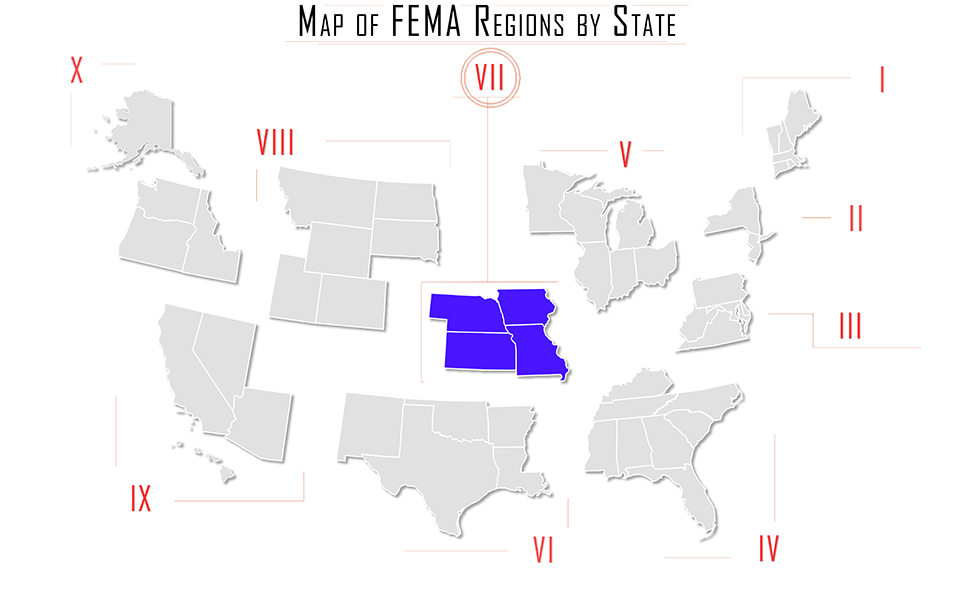 FEMA Region VII – Law Enforcement Officers (LEO)
   Law enforcement includes an extremely diverse range of agencies dedicated to promoting safety and public order through the application of national and regional laws and regulations. The variation of laws and penalties nationally and internationally necessitates region-specific training and specialization, while at the same time, officers must be familiar with overarching legislation and judicial decisions governing procedure and jurisdictional reach. This applies to agencies at the federal, state, county, and municipal levels, all of whom serve and protect their constituency in a dangerous field that exists within a complex and challenging framework.



Iowa



   The Iowa Law Enforcement Academy (ILEA) establishes minimum standards for all law enforcement professionals and grants officer certification through its program and the additional five academies approved by the state. Basic certification at the academy is provided through its 14-week program, offered six times per year; officers may also complete the standard basic training programs at Cedar Rapids Police Department, Des Moines Police Department and the Iowa Department of Public Safety. Applicants with a two or four year degree in political science or criminal justice are eligible to complete the shorter Level II Basic program at Hawkeye Technical Community College, or Western Iowa Technical College. To be eligible for a law enforcement position, applicants must, at minimum:


   •   Be a US citizen
   •   Be a citizen of Iowa, or intend to become a citizen of Iowa once employment
   •   Be 18
   •   Hold a valid driver's license
   •   Have a high school diploma or GED
   •   Have uncorrected vision of at most 20/100 corrected to 20/20, color vision that meets the needs of the position, and possess normal hearing
   •   Pass a background investigation
   •   Undergo physical, psychological, and cognitive testing
   •   Meet physical requirements as provided here


   Applicants must complete an academy program within one year of hire. Individuals not yet hired may also attend an academy if their attendance is sponsored by a department; these applicants must submit a packet provided by the department at least two months prior to attendance and meet all requirements for employment. Applicants are not certified as law enforcement officers until they have been hired by a department.


   A calendar of upcoming ILEA training programs may be found here. In addition to completing the academy, officers must complete 12 hours of continuing education each year to maintain their certification.


Reciprocity


   Iowa offers reciprocal certification through an examination for officers who meet Iowa minimum standards and have been employed in law enforcement within the past 12 months. Applicants must have been certified through a training program of at least 160 hours to be eligible, and acceptance of reciprocity is at the discretion of the hiring department. Officers must submit their application for certification within 120 days of being hired by an Iowa department.



Kansas



   The Kansas Commission on Peace Officers' Standards and Training (KS•CPOST) approves the basic training curriculum and grants certification in the state. All applicants for certification must be employed by a law enforcement department, and meet minimum standards including:


   •   US citizenship
   •   A minimum age of 21
   •   The completion of a background investigation
   •   Possession of a high school diploma or equivalent
   •   Completion of psychological testing


   Individual departments may have standards that exceed these requirements. Applicants must also complete a 560 hour basic program through a certified state or local training academy prior to certification; this is generally required within the first year of employment. Most applicants receive their basic training through the Kansas Law Enforcement Training Center (KLETC); however, seven local academies and the Kansas Highway Patrol are also authorized to provide instruction. The KLETC schedule of upcoming classes for 2014 may be found here, and a description of the curriculum and hours is provided on their site.


   To maintain certification, officers must complete 40 hours of continuing education annually following their first year of employment. This must include the "Bias Based Policing" course, along with hours that may be obtained from a combination of college credit, video instruction, and classroom training.


Reciprocity


   Kansas offers reciprocal certification to out of state officers who have been found to have completed an equivalent training program by the Director of KLETC. Applicants must have been employed in law enforcement within five years of application, and must have been hired by a Kansas department prior to beginning the reciprocity process. To receive a preliminary judgment for certification, applicants must provide a form and:


   •   A copy of the basic course curriculum including each course title and number of hours allocated to each topic
   •   Employment history
   •   All continuing education credits completed after certification that relate to law enforcement


To complete their certification, applicants must take a 40 hour reciprocity course in Kansas laws and procedure; the curriculum is available here.



Missouri



   The Peace Officer Standards and Training (POST) Program under the Department of Public Safety licenses law enforcement officers and training programs in Missouri. In order to be eligible for licensing, applicants must:


   •   Be at least 21 years of age
   •   Be a US citizen
   •   Possess a high school diploma or equivalent
   •   Have no criminal record


   Applicants must also complete a basic training academy program and complete an exam process that tests an applicant's knowledge of POST objectives. A list of state approved academies and their contact information may be found here, along with in-state and out of state providers of continuing education credits. The exam consists of 200 questions, and there is no time limit for completion. An applicant has three attempts to pass the exam with a grade of 70% or higher, provided that POST is notified to schedule a retest within 30 days of an exam failure. After these attempts, the applicant must wait a year or complete another basic training program. Sample questions and additional guidelines may be found here.


   To maintain their license, officers must complete 48 hours of approved continuing education every three years. This must include 4 hours in each of four primary areas, including legal studies, interpersonal perspectives, technical studies, and skill development, with the remaining 32 hours to be split between these areas at the officer's discretion. At least 24 hours of the training must come from a POST approved provider, while the remainder may be composed of a combination of college credit, teaching provided to other officers, and military training.


Reciprocity


   Reciprocity in Missouri is offered through an exam process at POST's discretion. An applicant is assessed for testing eligibility through a point system that includes training, years of experience, obtainment of an advanced degree, and continuing education hours. There are two types of licenses available; Class A, which is required in St. Louis, St. Charles, Jackson, and Jefferson counties, and the City of St. Louis, and Class B, which is required everywhere else. To test to obtain a Class A license, an applicant must score at least 16 points on the licensing assessment; Class B requires 10 points for testing. Eligible applicants must pass then pass the 200 question state exam with a minimum score of 70% and meet all other requirements for licensing. Some of the exam questions are specific to Missouri law, and it is highly recommended that applicants review the Missouri Criminal Code Handbook prior to testing.



Nebraska



   The Nebraska Law Enforcement Training Center (NLETC) regulates statewide training of law enforcement as required by the Nebraska Commission on Law Enforcement and Criminal Justice through the Police Standards Advisory Council. Applicants to the law enforcement training program must, at minimum:


   •   Be 21 before the completion of training
   •   A US citizen
   •   Possess a Nebraska driver's license
   •   Read, write, and understand English at an 11th grade level as determined by the Test of Adult Basic Education
   •   Possess a GED or high school diploma
   •   Pass a background investigation
   •   Pass a medical examination


   NLETC offers open enrollment in the 16-week basic course to all applicants who meet hiring guidelines; many of the attendees are currently employed by a law enforcement agency; however, this is not required. Students who are not employed by a department ("diploma students") must pay for tuition in addition to meal, lodging, equipment, and fee requirements. Tuition for the basic academy is $4,560; students report that including meals, equipment, supplies and fees, the total cost for attendance is $6,500 to $7,500. A list of additional costs and required equipment is available here. Applicants are not considered certified until they are employed by a Nebraska department, and the diploma issued is valid for two years from academy completion.


   Nebraska law enforcement officers must complete 20 hours of continuing education annually to maintain certification. Of these hours, 10 may be from online courses, with the remaining ten from approved in-person training. Firearms qualification is also required on an annual basis.


Reciprocity


   A reciprocity process is open to certified or licensed law enforcement members who have completed an equivalent training program and been employed for a minimum of 180 days within two years of the application for reciprocity. An application will be provided by NLETC upon request, and there is a $100 processing fee required with its submission. Applicants must also provide copies of their certification or license, basic training curriculum, all continuing education and formal training, and letters from previous employers documenting dates of employment and status. Once this information is approved, applicants must pass a non-Nebraska specific examination ($100 testing fee) that includes law enforcement practices and federal statues/court cases. To complete the process, applicants must take online and on-site training sessions that include Nebraska law and firearms training; there is a $440 fee for this course.