Submitted by

At the Ready Ma...

on Fri, 08/09/2013 - 19:32

At the Region
   At the Region is an ongoing feature that discusses the state-by-state training, certification and employment requirements of first responder departments across the nation. In this issue, At the Region looks at EMS requirements in FEMA Region VIII: Montana, Wyoming, North Dakota, South Dakota, Colorado and Utah.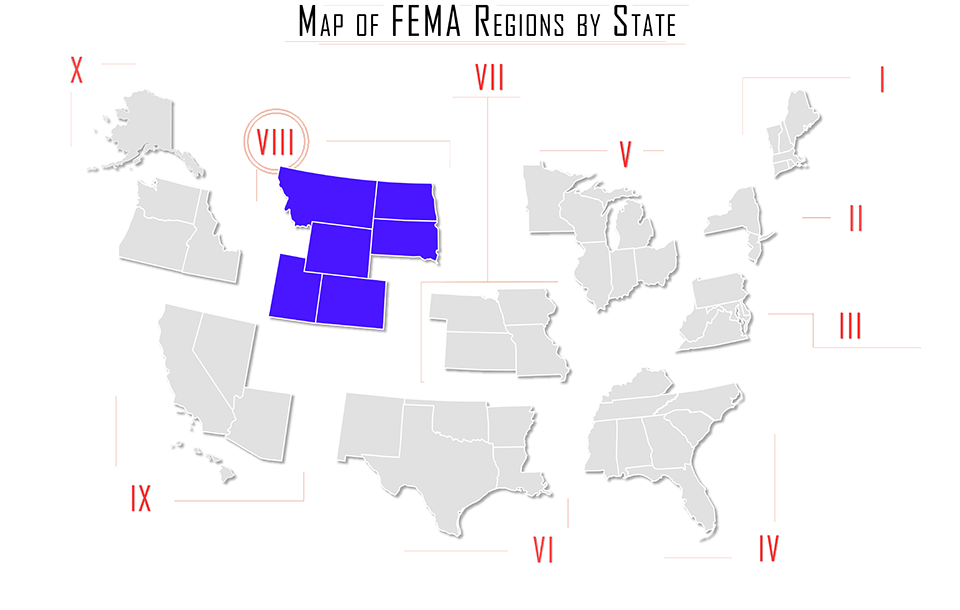 FEMA Region VIII - EMS
   Emergency Medical Technician certification levels result from a combination of national requirements and state by state regulations. All EMT training must meet minimum standards provided by the National Highway Traffic Safety Administration (NHTSA); this includes fundamentals in areas such as anatomy, medicine, and trauma, but states determine the final designations and requirements. An independent organization, the National Registry of Emergency Medical Technicians, also provides guidelines, and, although these are not mandatory, NREMT exams are used as the basis for certification at one or more levels in 45 states. Because of the variation in training, the NREMT national certification as an EMT does not equate to a license to practice, and transferring local certification depends on state by state reciprocity agreements.



Colorado



   Certification of emergency medical care providers in Colorado is provided at the EMT, EMT-I, AEMT, and paramedic levels by the Department of Public Health and Environment. In order to certify, all applicants must register with NREMT and complete all written and practical examinations. In order to be eligible for testing, applicants must first complete an approved training course; a list provided by the state that meets NREMT standards is available here. Applicants must also pass a Colorado Bureau of Investigation fingerprint background investigation, and provide a fee of $17.50 for this service. Once testing has been completed and all forms have been submitted, it will take four to six weeks to process the application and background check.


Colorado EMTs must recertify every three years by submitting a completed application along with one of the following:
   •   Proof of NREMT certification;
   •   A refresher course plus attestation of skill by a course provider or medical director;
   •   Completion of the minimum required CE hours along with attestation of skill by a course provider or medical director (36 hours for EMT and AEMT, or 50 hours for EMT-I and paramedics).


Reciprocity


   Colorado does not offer reciprocity for state certification; however, NREMT registration is accepted. Applicants who are not NREMT certified must submit their state training information to NREMT for approval, complete all examinations and requirements, and obtain their registration prior to applying in Colorado. Qualified applicants must complete an application and pass a Colorado Bureau of Investigation and FBI fingerprint background check; this check costs $39.50, and applicants should submit the fee along with their fingerprint card. Fingerprint processing may take from 8 to 12 weeks, along with the application processing time of four to six weeks.



Montana



The Montana Board of Medical Examiners licenses emergency medical technicians at the First Responder, EMT Basic, Intermediate, and Paramedic levels. The Board requires that EMTs:
   •   Be 18 years of age or older
   •   Possess a high school diploma or equivalent
   •   Be registered with NREMT at the license level requested or higher


   To apply for a license, qualified applicants must send proof that all requirements are met, along with an application, verification of licensure from every state in which the applicant has practiced when applicable, and the unopened results of a current self-query on the National Practitioners Data Bank. To request a self-query, applicants must input all required information on the Data Bank website, print the completed application, have the printed copy notarized, and mail it to the Data Bank for processing. There is an $8 fee associated with this process. Approval generally takes 10 days from the time the application is submitted.


   To certify with NREMT, applicants must pass cognitive and psychomotor examinations conducted at an authorized test site. In order to be eligible for this testing, applicants must complete a state-approved EMT course that meets NREMT standards within two years taking the exam, provide verification from the Program Director that proficiency in EMT skills was demonstrated, possess CPR credentials for healthcare providers, and pass a state psychomotor exam. Applicants will also need to register on the NREMT website and pay a $70 application fee to obtain their Authorization to Test.


Reciprocity


   Montana uses NREMT standards for its EMT licensing, and offers reciprocity to out of state EMTs who are registered with NREMT. Out of state applicants must also meet all other Montana requirements for EMT licensing as provided above, and supply information as required, including verification of licensure from all other states in which the applicant has been licensed or certified.



North Dakota



   The North Dakota Department of Health Division of Emergency Medical Services and Trauma (DEMST) provides training, testing, certification and licensure of EMS personnel in the state. North Dakota EMTs must be both NREMT and State certified to practice, and all training, testing, certification, re-certification and licensure requirements for Basic Certification match NREMT standards. Persons under the age of 18 who meet all other requirements as defined by NREMT may be issued state certification prior to registering with NREMT at 18 years of age.
Basic requirements include:
   •   Completion of approximately 150 training hours from an approved program within two years of testing
   •   Completion of NREMT written and practical exams
   •   Verification by NREMT of CPR credential for health care providers and course proficiency
   •   Completion of a cognitive and psychomotor exam
   •   Completion of pre-testing registration process and payment of the $70 fee as defined by NREMT here


   A schedule of state practical exams through 2014 is located here, and state licenses are valid for the time provided by NREMT, adjusted to June 30th. A list of authorized courses and dates is available along with a training calendar, and required application forms are available here. EMTs in North Dakota can earn free DEMST approved CEUs from American CME; the courses are 30 minutes each, and are also approved for CE credit from NREMT (contact NREMT for specific guidelines relating to how many hours are accepted for your certification and level).


Reciprocity


   Reciprocity is offered for EMTs who have completed equivalent training standards and are/will be certified by NREMT. To obtain certification, EMTs must submit a letter of intent and all applicable forms to DEMST. If EMTs are currently NREMT certified, they must submit a copy of their current card and an EMS Registration form. Individuals who hold an EMT-Basic certification or license in another state but who are not NREMT registered will be required to submit a copy of their certification card, CPR card, and an EMS Registration. A license will be granted for one year or until the expiration date on the out-of-state certification; applicants must take the practical and written examination and become NREMT registered within this time period. Applicants who wish to certify at the Advanced or Paramedic levels must be registered with NREMT to receive reciprocal certification.



South Dakota



   The South Dakota Department of Public Safety oversees the licensing of emergency medical technicians in the state at EMT, EMT-Intermediate/85, AEMT, EMT-Intermediate/99, and Paramedic levels. In order to become certified in South Dakota, EMTs must register with NREMT, and complete all exams and requirements. A schedule of upcoming exams and testing locations may be found here. Once testing has been completed, applicants must submit proof of registration along with their application to the Office of Emergency Medical Services. AEMT and paramedic providers must be licensed annually through the South Dakota Board of Medical and Osteopathic Examiners; forms and procedures are available on their website.


Several locations offer training for EMTs; a list of approved classes, dates and locations for EMTs, AEMTs, and paramedics may be found here. Also included are refresher and specialty courses that have been Department approved for credit, and a copy of the student workbook is also available online.


Reciprocity
   South Dakota offers reciprocity to EMTs who are registered with NREMT. In addition to submitting a form, applicants must send their National Registry Card, CPR card, and any current state cards for review. Applications will be processed in two to four weeks.



Utah



   The Utah Bureau of Emergency Medical Services under the Department of Health oversees the EMT certification process for the state. To obtain certification, applicants must register for a state approved training program through the online system available here. Applicants need to create an account, provide the enrollment code assigned by their course coordinator, and complete an Application for Certification that includes background and criminal history information, course requirements, and contact information.


Prior to certification, applicants must also:
   •   Submit a photograph for the EMS ID badge
   •   Submit a copy of the American Heart Association approved CPR course certificate
   •   Submit a fee of $160 for EMT and AEMT certification, or $260 for paramedics (add $35 for all levels to include the fingerprint background check, see below)
   •   Pass a criminal background check, or fingerprint check if you have lived outside of Utah within the past five years
   •   Submit TB test documentation
   •   Complete an approved course and all examinations


   For EMT-Basic applications, the exam consists of 100 questions over 2 hours, plus medical and trauma practical tests. EMTs in Utah must recertify every four years by submitting an application, $70 fee (see fee schedule for details), CPR certification and background check information, TB test information, and proof of continuing education credits. Advanced certification levels including EMT-I and paramedics must also provide proof of ALS certification and a letter from a certified off-line medical director recommending recertification and verifying proficiency in certain skills. Finally, applicants must take the state practical and written examination to complete the recertification process.


Reciprocity


   Reciprocity in Utah is offered to EMTs who have completed an equivalent training program out of state. Before applying for certification, it is strongly encouraged that applicants attend a reciprocity orientation meeting, with dates provided here; an appointment is required for attendance.


Applicants must complete the application and submit:
   •   A photo
   •   Copy of state, military, or NREMT certification
   •   A current AHA-approved CPR card (and ALS card for AEMT and paramedic certification plus PALS or PPEP)
   •   Background check and fingerprint information
   •   Documentation of 25 hours of CEUs taken within the past year (if certified within the past year, certification training counts)
   •   TB testing documentation
   •   A fee of $195 for EMT-B and AEMT or $295 for paramedics


Applicants must also pass a written and practical examination. A checklist of requirements to complete the reciprocity process may be found here.



Wyoming



   The Wyoming Office of Emergency Medical Services (OEMS) provides certification testing and requirements for pre-hospital care providers in the state. All EMTs must meet training requirements by completing a course that is Division approved, or accredited by Commission on Accreditation of Allied Health Education Programs (CAAHEP). A schedule of approved courses may be found here; registration for the spring semester in 2014 will be open through October 15, 2013.


After training, applicants must:
   •   Pass a FBI Wyoming Department of Criminal Investigation background check
   •   Submit a copy of all course information, including documentation of clinical, lab, internship, field and didactic hours
   •   Submit a copy of their American Red Cross Professional Rescuer card or BLS Healthcare Provider CPR card (must meet American Heart Association requirements)
   •   Pass the Wyoming State EMT-Basic Examination


   Wyoming has two tracks for certified EMTs; service affiliated and non-affiliated. EMTs who wish to work with an ambulance service or a Division authorized advanced level fire protective service must submit an OEMS Service Affiliation Application and fee of $2. EMTs not working for an ambulance or protective service must submit a Physician Sponsor Form from an identified medical director; there is no fee required for this form. Certification will be processed within 30 days of the submission of all necessary documents.


Reciprocity


   Wyoming does not offer automatic reciprocity for any program, including NREMT; however, lateral transfers will be offered state certification if they meet testing and training requirements. In addition to submitting all required information as outlined above, out of state applicants for certification must:


   •   Submit a copy of your current certification card, National Registry card if a member of the military, or certificate of completion of training if not yet certified
   •   Submit a copy of all course information: Basic Courses must meet the guidelines for the 1994 EMT-Basic National Standard curriculum; Intermediate Courses must meet 1985 or 1999 DOT EMT-Intermediate National Standard curriculum; Paramedic Courses must be Division approved (list available by request), or accredited through the Commission on Accreditation of Allied Health Education Programs (CAAHEP)
   •   Submit documentation of all Continuing Education Credits obtained within the past two years
Once this information has been received, applicants must pass the relevant Wyoming State examination and complete the affiliation/sponsor form as described in the general requirements.