Submitted by

At the Ready Ma...

on Sat, 11/30/2013 - 16:02

At the Region
At the Region is an ongoing feature that discusses the state-by-state training, certification and employment requirements of first responder departments across the nation. In this issue, At the Region looks at requirements in Part Two of FEMA Region IV: Mississippi, North Carolina, South Carolina, and Tennessee.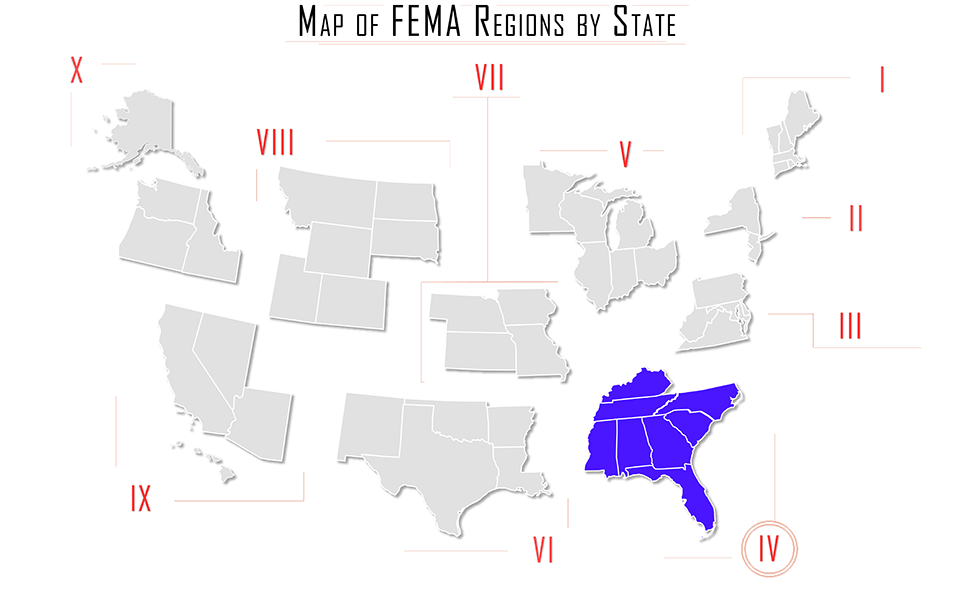 FEMA Region IV - Part II – Firefighters
Mississippi



The Mississippi Fire Personnel Minimum Standards and Certification Board (MSCB), under the Mississippi Insurance Department, certifies firefighters who are employed by departments in the state. In order to become certified, applicants must first be hired by a Mississippi department and complete the Candidate Physical Ability Test (CPAT). After passing the physical examination requirements, applicants must complete NFPA Firefighter 1001-I/II, offered through either:
   •   On campus training provided by the Mississippi State Fire Academy
   •   "Field delivery," in which a department conducts the training using materials provided by the State Academy, and makes arrangements for the completion of exam requirements


Certification must be completed within either the one-year probationary period or 2,800 hours of compensated employment (whichever comes first), and is valid throughout the applicant's continuous employment as a firefighter. Firefighters with a break in service greater than two years but less than five years may recertify through an examination process. Applicants who are called to active military duty may have their probationary period suspended, and are not considered to have a break in service if their active duty lasts for a period of more than two years. Volunteer, reserve, and auxiliary firefighters are not required to be certified by MSCB.


Reciprocity


Reciprocity is offered to applicants who have been hired by a Mississippi department and possess valid credentials from an approved training program. Applicants must provide evidence of completion of the training, either from an out-of-state program or through the military. Based on this information, part or all of the testing and training requirements may be waived at the discretion of MSCB.



North Carolina



The North Carolina Fire and Rescue Commission, under the Department of Insurance Office of State Fire Marshall, issues voluntary minimum professional qualifications and certification for firefighters in the state. While many departments require higher minimum standards for employment, all eligible applicants for certification must:
   •   Be at least 18 at the time of certification (training may be completed prior to this)
   •   Possess a high school diploma or equivalent
   •   Complete the NFPA Firefighter 1001-I/II training
   •   Pass a practical and written examination with a minimum score of 70%


It is also recommended that applicants be given a physical examination by a medical practitioner using the NFPA 1582 Standard for Medical Requirements for Fire Service Personnel to ensure that they are able to safely complete all job requirements. Once this certification has been issued, recertification is not required.


Reciprocity


Reciprocity is offered to applicants who certified under a program accredited by the International Fire Service Accreditation Congress (IFSAC) or the National Board on Fire Service Professional Qualifications (Pro Board). To apply for reciprocity, applicants must submit:
   •   An application
   •   Copies of certification documents
   •   Written verification of membership in an NC department
   •   Written verification of membership in a department of the state in which the applicant was originally certified
Applicants must be employed by a North Carolina agency prior to certification.



South Carolina



South Carolina departments set requirements for volunteer firefighters and employees. Basic requirements for employment in most departments include, but are not limited to:
   •   Minimum age of 18
   •   Possession of a high school diploma or GED
   •   Possession of a SC driver's license
   •   Completion of Firefighter 1001-I/II through an accredited academy
   •   Completion of all national examination requirements


Most SC applicants certify through the South Carolina Fire Academy, which operates under the Department of Labor, Licensing, and Regulation. The Academy is IFSAC accredited for a range of professional certifications; a full list of available courses is provided here. All firefighters in South Carolina are required by state law to pass a background check and be registered with the State Fire Marshall's office within 60 days of employment.


Reciprocity


Reciprocity is offered to firefighters certified by an out-of-state program accredited by the IFSAC, and through an equivalency challenge exam to applicants trained to the national standard through a program that is not IFSAC-accredited. To apply for reciprocity, applicants must submit:
   •   A completed request form
   •   A letter verifying membership in a SC department
   •   A copy of certificates or transcripts
Firefighters applying through the equivalence program must also provide documentation of hours, objectives, methods of evaluation, and NFPA standards met through their training program. Information on registering for the challenge exam is available here.



Tennessee



The Firefighting Personnel Standards and Education Commission under the Department of Commerce and Insurance certifies volunteer and paid firefighters in Tennessee. While individual departments set requirements for employment, minimum standards generally include that applicants:
   •   Complete certification training in Firefighter 1001-I/II through a program such as the state Fire Service and Code Enforcement Academy
   •   Pass all program practical and written examinations
   •   Pass a local civil service examination (this requirement mostly applies to larger cities)


Applicants also have the option of completing a degree program in fire science, which is required for some private companies and provides an advantage in some competitive hiring rosters and promotional scales for city employment.


Reciprocity


Reciprocity is offered to applicants certified through an IFSAC or NSFPQB accredited program, provided that the program accreditation was issued prior to the applicant's certification. Applicants must provide a copy of their certification and letters from former departments of employment along with the reciprocity application. Completion of a state challenge examination may also be required.