Submitted by

At the Ready Ma...

on Sat, 09/28/2013 - 21:32
At the Region - FEMA Region IV - Part I - EMS - Alabama, Florida, Georgia, and Kentucky



At the Region
   At the Region is an ongoing feature that discusses the state-by-state training, certification and employment requirements of first responder departments across the nation. In this issue, At the Region looks at requirements in Part One of FEMA Region IV: Alabama, Florida, Georgia, and Kentucky.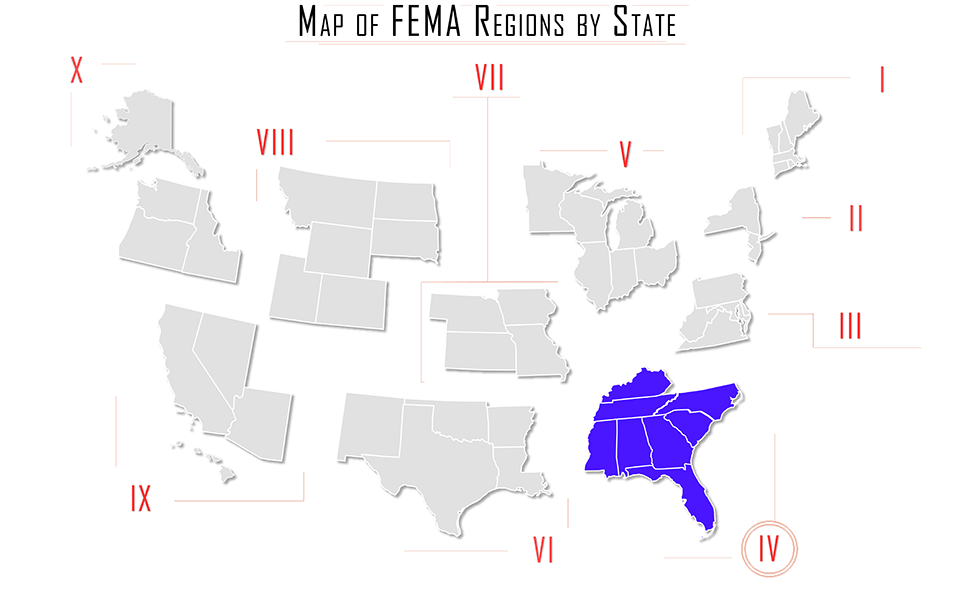 FEMA Region IV - Part I - Emergency Medical Services (EMS)
   Emergency Medical Technician certification levels result from a combination of national requirements and state-by-state regulations. All EMT training must meet minimum standards provided by the National Highway Traffic Safety Administration (NHTSA); this includes fundamentals in areas such as anatomy, medicine, and trauma, but states determine the final designations and requirements. An independent organization, the National Registry of Emergency Medical Technicians, also provides guidelines, and, although these are not mandatory, NREMT exams are used as the basis for certification at one or more levels in 45 states. Because of the variation in training, the NREMT national certification as an EMT does not equate to a license to practice, and transferring local certification depends on state-by-state reciprocity agreements.



Alabama



   The Office of Emergency Services under the Department of Health oversees the implementation of established standards for EMTs in Alabama. In order to be eligible to obtain a license, applicants must meet minimum requirements:


   •   Minimum age of 18 by the completion of training
   •   Residence, employment/volunteer service, or certification training in Alabama
   •   Meet all physical requirements
   •   Pass a background examination
   •   Hold an approved CPR card
   •   Complete an approved EMT training course


   To complete the licensing requirements, applicants must provide proof of NREMT registration. NREMT requires an approval process, including the submission of training records and the completion of a state psychomotor exam, prior to approval for its written and practical examinations. Instructions on creating an account and requesting approval for testing may be found here, and requirements for NREMT certification are here. Alabama licenses may be valid for one year or two years, depending on the form of license requested in the initial application; all licenses are valid until March 31st of the year they are listed to expire. EMTs may renew their license using the application form, or through the online system (a login area and forms will appear on the site during the renewal period of January 1st to March 31st). Application guidelines for renewal are available here.


Reciprocity


   Applicants with an NREMT Intermediate certification are eligible to be licensed as EMTs in Alabama. All out-of-state providers must undergo Alabama protocol verification, including physical skills and scenario competency testing. This requires evaluation by a Medical Director or Training officer in select areas listed by certification type here. A list of scenarios and maximum time provided for each is available here, and the manual of Alabama EMS Patient Care Protocols is also online.


Florida



   The Division of Medical Quality Assurance (MQA) under the Florida Department of Health oversees certification and training of EMTs in Florida. In order to be eligible for certification, applicants must complete educational requirements and submit proof of this completion through a course certificate from an approved training program or NREMT registration card. Admission requirements for training may vary by program, but generally include:


   •   A minimum age of 18
   •   A high school diploma or GED
   •   Completion of a drug test and background check
   •   A completed "physical form" and immunization record
   •   A valid CPR card
   •   Any additional forms as required by the institution for application


   Along with proof of education, applicants must submit a $35 fee and either a Red Cross CPR Professional Rescuer card, an American Heart Association BLS for the Healthcare Provider, or an equivalent certification that meets requirements provided here. EMTs must apply to NREMT and pass all examination requirements to complete the certification process. Exam results may be accessed online here, and applicants who pass will be issued their certification within 30 days of the State's receipt of a passing result. EMTs may apply for initial certification by creating an account on the MQA Services website, and full instructions on using this system are available here.


   Following the first two-year certification period, EMTs must complete continuing education requirements to renew their state certification. This includes a total of 30 hours, with at least two hours in pediatric emergencies. A list of approved CE providers is available here.


Reciprocity


   Florida offers reciprocity to EMTs licensed or certified in other states, and EMTs holding current NREMT registration. Applicants must submit a copy of their certification/license along with all other documentation required for initial Florida certification, and pass the NREMT written basic assessment exam; only exam results obtained after applicant has been granted eligibility in Florida will be accepted.


Georgia



   The Office of Emergency Medical Services (OEMS) under the Georgia Department of Health defines procedures for the training and licensing of EMS providers. In order to be eligible for certification, applicants must:


   •   Be 18 years of age or older at the time of testing
   •   Provide verification of the completion of an approved course within the past two years
   •   Provide verification of successful completion of all practical skills as required within the past 12 months
   •   Provide verification of CPR credentials reviewed by a Regional EMS Official


   Once these requirements have been met, applicants must register for and pass all NREMT examinations, including the written and practical assessments. The EMT level required for practice may vary by location, with some agencies requiring a minimum of EMT-I certification to staff an ambulance; check with the department of interest to verify their requirements.


   Licenses are valid for two years, and may be renewed online here. EMTs should have their SSN, driver's license, and a method of payment accessible to complete the forms. The license will be available to print at the end of the renewal process.


Reciprocity


   Georgia offers reciprocity to NREMT-certified EMTs at the Basic, Intermediate, Advanced, and Paramedic levels. Interested EMTs should submit an application, along with the initial certification fee of $75 in the form of a money order, business check, or cashier's check.


In addition, applicants should provide:
   •   A copy of their NREMT card
   •   Proof of completion of a state-approved course
   •   CPR credentials including an instructor verification, or copies of both sides of the card verifying competency in adult, one and two person CPR, child and infant CPR, and adult/child/infant obstructed airway maneuver
   •   A copy of a state or federally issued ID
   •   ACLS credentials
   •   A National Criminal History Report, generated within the past 12 months


Applications are processed within five to seven days.



Kentucky



   The Kentucky Board of Emergency Medical Services (KBEMS) under the Community and Technical College System certifies EMTs, licenses paramedics, and establishes standards and training for emergency medical service providers. To be eligible for certification, applicants must, at a minimum:


   •   Be able to pass a KY Administrative Office of the Courts Background Check if a resident for more than five years, or Verification Check if a resident for less than five years
   •   Have a driver's license or learner's permit for a US state or territory
   •   Have a high school diploma or GED


   Qualified applicants must take an EMT training program and complete the NREMT written and practical examinations. Following NREMT registration, to complete the State certification process, in addition to proof of eligibility requirements above, applicants must create an account with Kentucky Emergency Medical Services Information System (KEMSIS) and submit:


   •   A completed and signed EMS Responder Application
   •   A CPR for the Healthcare Provider Certification
   •   Proof of completion of an approved HIV/AIDS course
   •   A Student Test Eligibility Form
   •   Practical Skills Test results
   •   A fee of $40


   In order to maintain certification, EMTs must renew through the KEMSIS, and meet all continuing educational requirements. Applicants may meet state guidelines by providing proof of 24 structured contact hours in a range of areas, or by maintaining current NREMT registration. Applicants must also provide a current CPR card, proof of HIV/AIDS educational certificate, and $25 renewal fee.


Reciprocity


   Reciprocity is offered to EMTs who are both certified in another state and NREMT-registered. Applicants must submit proof of both forms of certification, along with a fee of $165, and all documentation as defined above for EMT applicants, aside from testing and skills results.