Submitted by

At the Ready Ma...

on Fri, 07/19/2013 - 20:41

At the Region
   At the Region is an ongoing feature that discusses the state-by-state training, certification and employment requirements of first responder departments across the nation. In this issue, At the Region looks at law enforcement requirements in New York and New Jersey.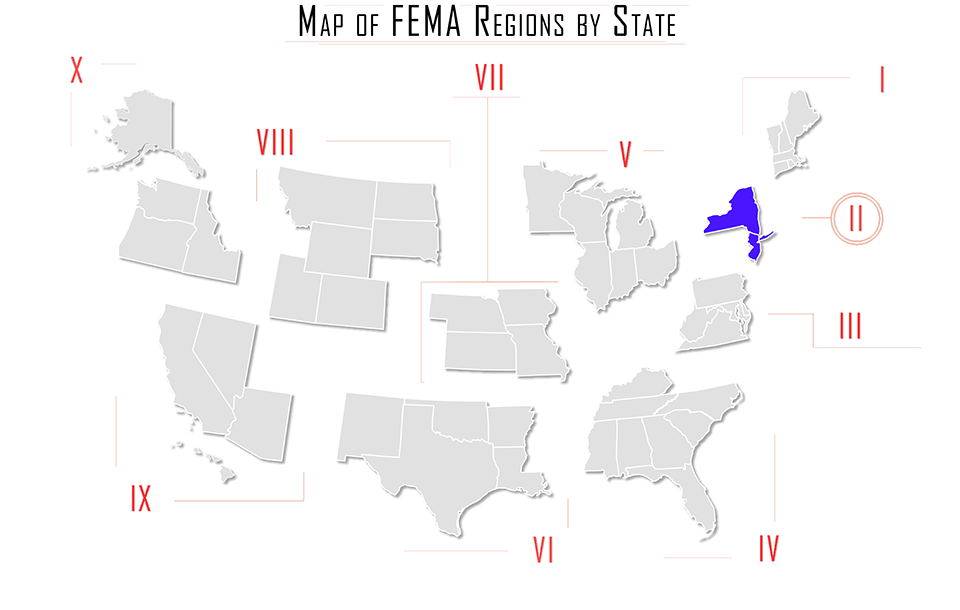 FEMA Region II - Emergency Medical Services (LEO)
   Law enforcement includes an extremely diverse range of agencies dedicated to promoting safety and public order through the application of national and regional laws and regulations. The variation of laws and penalties nationally and internationally necessitates region-specific training and specialization, while at the same time, officers must be familiar with overarching legislation and judicial decisions governing procedure and jurisdictional reach. This applies to agencies at the federal, state, county, and municipal levels, all of whom serve and protect their constituency in a dangerous field that exists within a complex and challenging framework.



New Jersey



   The New Jersey Police Training Commission (PTC) provides development and certification of basic police training courses, as well as certification of all instructors, trainees, and authorized law enforcement academies. Resources for active members of law enforcement organizations, such as ongoing trainings and general announcements, may be found on the resource page of the Office of the Attorney General. When applying for entry to a law enforcement field, the examinations and requirements depend on the hiring department; approximately half of the active agencies are part of the Civil Service, and applicants must take the Civil Service Examination. Applicants in this job area will follow the State's nine step hiring process, which includes the application, evaluation, and exam. Applicants who are veterans are given "absolute preference" in competitive hiring situations, and the steps required to demonstrate proof of status are available here. It is anticipated that the 2013 Entry Level Law Enforcement Examination for Civil positions will be conducted in the fall. Agencies that are not a part of the Civil Service have varying requirements, generally involving an examination, and announcements for openings will typically be posted in local papers and/or on the departments' websites.


General requirements for personnel include:
   •   US citizenship
   •   Age in the range of 21 to 35 years (18 years for some departments)
   •   Good moral character and sound physical health
   •   The ability to write and speak English


   In addition to standard certification offered through a department, New Jersey offers interested applicants who are not yet employed to take Alternate Route academy courses. These courses qualify an applicant for hire for three years after course completion, and are paid for by the student. An examination is required for entry to the academies, and the process is competitive.


Reciprocity


   New Jersey departments may accept lateral transfers at the agency's discretion; some departments actively seek qualified out of state applicants, while other agencies do not accept lateral transfers of any kind. Agencies may also evaluate an officer's prior training and require that they take a certain academy classes, but not require that they complete the entire program. It is recommended that interested applicants contact the department of interest for their full policy prior to considering any form of transfer.



New York



   New York state code provides a baseline of standards to be applied to police departments, though individual agencies may set more rigorous requirements in terms of age, education, physical agility, etc.


Basic standards include:
   •   An age of 20 to 35 at the time of appointment, with a year subtracted from the candidates age for every year of military service up to six years
   •   High school diploma or equivalent
   •   Candidate meets height, weight, and fitness requirements
   •   Good moral character


   Law enforcement agencies in New York generally select recruits through a competitive Civil Service and/or department examination. A calendar of State Civil Service exams through December is provided here, along with a sign-up form to receive notices of future listings. The NYPD is also currently offering testing Monday to Saturday through July 31st; requirements and additional information may be found here (please be advised that the Department includes additional standards such as 60 units of college credit, or two years of military service, and uncorrected vision of 20/100 or better).


   Agencies in New York have the option of undergoing a State accreditation process through the Division of Criminal Justice Services. The program is based on 133 Accreditation Standards developed for New York, and accredited agencies receive benefits such as lower insurance rates after completing the process. The Standards include administrative, operational, and training requirements, and agencies must develop a mechanism for maintaining compliance to be considered for the program. Of the 553 eligible departments, 215 have completed the program; a list of accredited agencies, their year of accreditation, and the number of personnel they employ may be found here.


Reciprocity


   The reciprocity requirements in New York are determined by individual departments; however, it is a common requirement that any transferring officers take the Civil Service examination regardless of experience, and prior service may not be considered as part of the selection criteria when reviewing results. Following the successful completion of the exam, a department may elect to waive part or all of its academy requirements for the applicant at the agency's discretion.