Submitted by

At the Ready Ma...

on Sat, 09/28/2013 - 22:58
by Mike Kennedy




   At the Ready has ventured off the beaten path to shed light on a type of emergency that responders do not often talk about; and one in which responders are probably less frequently trained. In 2007, there were 922,095,840 (1) acres of farmland in the United States; nearly 41 percent of total land area. In 2011, there were 2,181,000 farms spread throughout every state in the union. That averages 43,620 farms per state. Chances are pretty good that at some point in your career you will be called upon to respond to an emergency of some kind on a farm.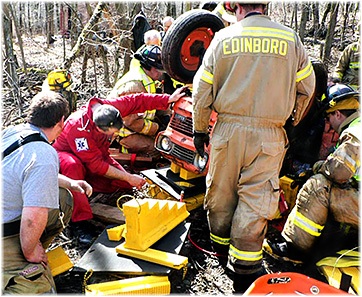 Most of us recognize the spirit of the American farmer as one of self-reliance, resiliency, and rugged independence. Ironically, this makes most agriculture emergency calls particularly serious. Farmers will not call 911 every time they cut their finger or if they just are not feeling well. "Farmers will not call if they can get themselves out of a situation, even if it is a bad situation," according to Davis Hill, EMT-P and Program Director, Managing Agriculture Emergencies, at Penn State University. "I have always said that only about 10% of EMS calls are for unstable or critical patients. But 100% of calls for farm trauma will be critical."


   Moreover, "these are not your typical emergencies," Hill explained in a recent interview. "The kinds of agriculture emergencies that responders can expect to respond to are bad. Tractor overturns are the most common by far. Other typical emergencies involve machinery entanglements, confined space involvements, such as grain bin entrapments, exposure to silo or manure gas, entrapment in silo unloader or grain auger, and falls off grain bins/silos." Add in highway incidents, as well.


   Apparently, good sources to report the number of farm injuries are lacking. "Farmers are not covered under OSHA so there really is no official reporting mechanism for injuries," said Hill. However, in addition to the seriousness of the initial injury, first responders should be prepared for another factor—the delay before treatment, "the length of time a farm trauma victim is entrapped versus other types of trauma (like vehicle trauma)," Hill explained. "When a car crashes on the roadway, that incident is often discovered quickly and emergency response is made quickly. The traumatized body is still compensating and is often rapidly extricated and treated and transported to a trauma center. A farmer can be trapped for hours before he/she is discovered. Serious entrapment can lead to crushing injuries that can have serious (fatal) consequences if the farmer is rapidly extricated."


   Adding to the medical crisis, Hill continued, rural first responders may lack experience dealing with "such high-level trauma." In addition, "if this happens in a metropolitan area, an on-scene paramedic can summon support from the area fairly quickly, but in a rural community, that paramedic is alone with almost no support," he said.


   Penn State University was one of the first universities to offer training in agricultural emergencies, starting in the late 1970s when Dennis Murphy, an Extension Safety Specialist, developed a series of videos on various aspects of agricultural rescue that he turned over to the Pennsylvania Fire Academy. After arriving at Penn State in 2001, Hill began finding a new approach for agricultural rescue, drawing on his experience directing New York's FARMEDIC program for 10 years. "At FARMEDIC, I led the development of the first national standardized curriculum for agricultural rescue. This program was a good one for the time, but with the onset of NFPA 1006 and 1670, that program needed to change. What we have now at Penn State is over 60 hours' worth of training modules dealing with a host of on farm emergencies (general farm response, tractor overturns, machinery entanglements, farm chemical emergencies, farm confined space emergencies, and animal emergencies). All modules comply with NFPA 1006 and 1670 standards." In contrast, the FARMEDIC training was 16 hours.


   "We start off our training with encouraging responders to get to know their local farmers. Many fire companies and EMS squads admit to doing some form of pre-planning, but they never think of pre-planning a farm in their community. Even members that are very knowledgeable on farms do not appreciate the potential that exists on their farms. Understanding the things that can go bad on farms will automatically get people thinking about the 'what if's.'"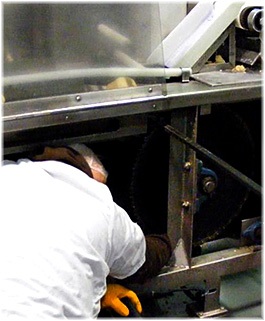 Mainly rural fire and EMS responders, over a thousand a year, are taking the Penn State courses now. Hill seeks a wider audience— "anyone who is going to be dispatched to an emergency on a farm. For our trauma-related trainings, tractor overturns, machinery entanglements, the ideal participants would be 2/3 fire, who typically perform scene stabilization and disentanglement functions, and 1/3 EMS, who perform patient care functions." This mix stresses the importance of teamwork in responding to these and any emergencies. "We are all about teamwork among responders. There are just too many things to handle by any one agency during a farm-related incident. You have a very unfamiliar piece of equipment that needs to be controlled and stabilized. Then you have a critically injured and unstable patient that needs to be controlled and stabilized. If fire/rescue and EMS is not on the same page, there can be serious consequences. Now you have to work together to remove this unstable patient using techniques that are not practiced, and you have to perform those techniques at the right time."


   Aspects of the courses have a broader application than just rural environments. "Actually, we have been trying to promote this training to non-rural responders as well. Tractors and machines are used in many non-farm settings, so the potential for serious injury exists in many non-rural settings. I do not know of any other training for machinery extrication. A machine is a machine; it really does not matter if it is pulled behind a tractor through a Pennsylvania farm field or if it sits in a manufacturing plant in downtown New York City. If a person gets trapped, there is energy that needs to be managed, patient care delivered, and teamwork needed between all responders." Experience with Pennsylvania fire companies who have completed the modules bear out this wider application. As an example, Hill offers the 2010 Beaver Pizza Dough case, in which "the Beaver County Farm Rescue Team was dispatched to a male patient. On arrival, they found the patient with his right arm caught in a pizza dough-manufacturing machine. His arm was being pinched between the sprocket and the chain. During that response, Beaver County personnel were able to safely extract the victim and manage the incident more effectively. They cited the Penn State training as part of the reason for that." In another incident, "a worker was trapped in a commercial bread machine and they called the 'agricultural response team' for that extrication."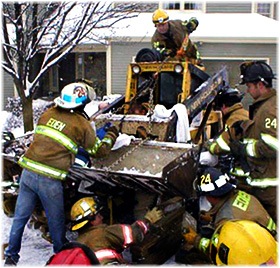 One might think that responding to agricultural emergencies requires tools and equipment that are not part of a department's standard kit, but according to Hill, "the best piece of equipment sets on their shoulders, and they need to understand how to be creative. For the most part they have the equipment; they need to understand the limitations of that equipment in this application and how to use that equipment."


   However, Hill's training also addresses those occasions when other equipment resources are required. "I'm always asking my participants to tell me what on their toolbox they have that can handle a certain task. When they give me an answer, I'll ask, 'what else….what else'...they need to understand where they can get other equipment….for instance, when a 20-ton tractor turns over or needs to be stabilized, where can they get a heavy duty wrecker service? Do they work with such a service now? Have they built a relationship with these people? Such a service not only has capabilities to help hold and pull, but they often have low-pressure air cushions to help in stabilization efforts [Hill refers to these as the 'cat's meow" when it comes to tractor rescue]. We often find responders securing additional cribbing and heavy cutting tools after our training programs."


   The greatest challenge in responding to agriculture-related emergencies, Hill emphasized, is that responders must realize that the rescue has to be "patient-driven, and that teamwork between agencies is critical." Responders also must overcome unfamiliarity and inexperience, "very unfamiliar territory with very unfamiliar machines, structures, animals, and people. Oftentimes, responders don't have a lot of experience dealing with this type of trauma and they now have to deliver the highest level care that anyone can possibly deliver….and they don't have a lot of resources to call to help them."


   Hill's practical advice is to "get to know the local farmers. Ask them to show you around their farm and talk about hazards, injuries, and near misses they have had or other farmers have had. See if the local farmers will help you locate some farm equipment that you can use for scenarios. Most farmers are very willing to help their responder agencies this way and may even host such events. County farm organizations (Farm Bureaus, Grange, etc.) are very interested in helping emergency responders be better prepared to manage these kinds of incidents. They want them to do the right things to help their own."


Want more information on agricultural rescue training? Contact Davis Hill at www.farmemergencies.psu.edu
For a long-list of farm related Fatality Assessment and Control Evaluation Program Reports from NIOSH visit, http://www2a.cdc.gov/NIOSH-FACE/state.asp?Category=0001&Category2




1.   http://www.ers.usda.gov/data-products/state-fact-sheets/state-data.aspx?...
2.   When Training Means the Difference Between Life and Death - Penn State University