Submitted by

At the Ready Ma...

on Wed, 08/28/2013 - 23:06
with Paul Combs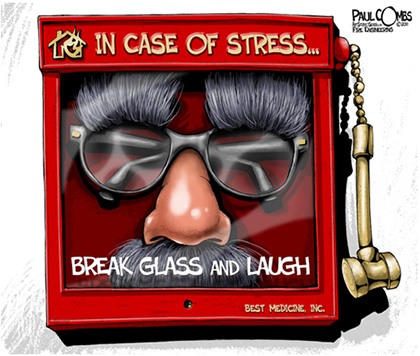 The illustrations by Paul Combs are instantly recognizable not only because of his unique style but also because he concisely gets across his intended message through his artwork. His Firefighting and EMS editorial panels are featured in Fire Engineering Magazine, and his first book of firefighting cartoons, Drawn by Fire, featured 150 illustrations. At the Ready Magazine had an opportunity to discuss with Paul his extensive firefighting background, USO and other volunteer commitments, and of course his illustrative work. More Fire Service cartoons will be available in October in a book aptly named Drawn by Fire, Too.


Typically we do not publish an interview outright, but Paul's answers were… well, perfectly illustrated.



What is your background in the fire service?


I joined my local fire department in 1995. Bryan (OH) is a midsize town nestled in about 200 miles of corn and is nearly Rockwellian in its mid-western charm. I've had opportunities to go to larger departments over my 18-year career, but always felt the obligation to stay and serve my hometown.


Certification wise, I am a Firefighter II, Fire Instructor I, HazMat Technician, NREMT-B, and about half a dozen other certs that will bore your readers to tears. In short, don't worry folks, I'm a trained professional.


I know that many of your illustrations address the safety of the Fire Service and EMS. Where do you find your subject matter? What is the decision point for addressing a specific topic?


The inspiration for my work comes from many places; reading, attending conferences, and just being part of the fire service on a daily basis - every firehouse is full of wonderful knuckleheads. From time to time there will be a story that will dictate an editorial cartoon, but typically I make the decision to publish on a certain topic based on my mood. If I'm in a great mood the cartoon will be fun and silly, if not, the work tends to be more sharp and heavy.


If you could reach any rookie or explorer considering a career in the fire service, how would you help them to foster a culture of safety?


My first advice to our new recruits is to listen, learn, and ask as many questions as possible. I think today's fire service is doing a great job of teaching safety right out of the gate in basic training. Unfortunately many of these recruits take the great lessons they learned about crew safety into an established firehouse where they are shown and taught "old ways" of doing a task that would not be considered safe by today's standards (like not fastening your seat belts).


These recruits, wanting to fit in and not make waves, mimic these behaviors of established firefighters. Over time bad actions become bad habits, which the next batch of recruits will see… it's an endless cycle. So, my advice about safety? Stick to what's right and set an example for the veterans to follow. Leaders do not have to be 15-year veterans or officers - leaders do what's right, regardless of age or experience.


Tell us about your new book


Drawn By Fire, Too will be released by PennWell and Fire Engineering Books in late October. Like Drawn By Fire, it will have nearly 160 cartoons and be beautifully bound - PennWell really does a great job with my books! If you check my website this Fall, there will be an announcement and order links posted www.ArtStudioSeven.com.


We thank you for your USO involvement and Support for our Troops. Please tell us about that and your upcoming trip.


I began volunteering for the USO in 2010, and it's been a remarkable and rewarding experience. The USO and the National Cartoonists Society have been working together since 1941, and we reestablished this relationship a few years ago to begin giving something back to our active, wounded, and retired warriors. We visit VA hospitals all across the country, and travel forward into active military engagements to lift the spirits of our service men and women. My tours have taken me to Kuwait, Qatar, Germany, Turkey, and Kosovo - and I will be shipping out for my next overseas tour in early September.


I work as caricaturist when on tour, but our job as cartoonists goes much farther than the drawings we provide. For the 10 to 15 minutes we have to interact with the soldiers, we are their lifeline back home. We talk about their families, hobbies, sports… anything to make them think of better times or meaningful places, if only for a brief time. The caricature I hand them at the end is almost inconsequential; it's the time we spend engaging with them that's of value. I'm not sure if I've changed any lives with my USO involvement, but I know our warriors have changed mine.


Anything else you'd like to discuss?


Well, I have this trick hip that hurts when I Zumba… wait, too personal?


And with that, dear readers, we thank Paul for his time, his service, and sharing his creativity with the rest of us!


Check out Paul's website: www.ArtStudioSeven.com
To order a SIGNED copy of Paul's Book Drawn by Fire, click here (The holidays will be upon us soon!)
Follow Paul on Facebook