Submitted by

At the Ready Ma...

on Tue, 06/30/2015 - 20:51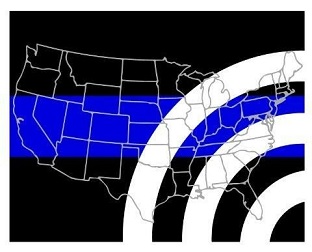 Back
in 2013
, At the Ready introduced Tom Berry and the Blue Alert system to our readers. The Blue Alert concept evolved from the success of the national "Amber" and "Silver" alerts, notifications systems that notified citizens of missing children and senior citizens. The first state to adopt the Blue Alert (then known as LEO ALERT) system was Florida, back in 2008. The purpose of the Blue Alert system is to notify law enforcement agencies providing, "the means to speed the apprehension of violent criminals who kill or seriously injure local, state, or federal law enforcement officers."
On May 19, 2015 President Obama signed the legislation creating a national alert system. The Rafael Ramos and Wenjian Lu National Blue Alert Act is named in honor of the two New York City Police Detectives who were assassinated while sitting in their police patrol car in December 2014. In addition to assisting law enforcement's apprehension of violent felons, the Blue Alert system allows wide dissemination of credible threats to law enforcement agencies. The assassin of Officers Ramos and Lu posted his threats on social media before his attack.
Each state adopts legislation to enable alerts within the jurisdiction. Today the Blue Alert System is active in 24 states, with nine others considering the legislation. The criteria for sending a Blue Alert across the network is found on the National Blue Alert website. If your state does not currently have Blue Alert legislation, urge your representatives to pass this critical notification system to protect your state's and federal LEOs. http://www.bluealert.us/about_us
"Using media broadcasts and Department of Transportation messaging signs, each Blue Alert would cover the state with information identifying a detailed description of the offender, the offender's vehicle, and license plate information which will inevitably hinder the violators ability to flee the state and facilitate a speedy capture, helping eliminate the threat they would pose on other communities and law enforcement personnel."
To receive Blue Alerts, visit the National Blue Alert System sign­up page
here
Contact Tom, and the Blue Alert Foundation at:
Blue Alert Foundation, aka National Blue Alert System
871 Venetia Bay Blvd
Suite 230
Venice, FL 34285
Email: info@blueAlert.us
Follow on:
Twitter: @BlueAlertUS
Facebook: www.facebook.com/BlueAlertUs
Google+: https://plus.google.com/+BlueAlert
The Blue Alert Foundation is a 501(c)3 Public charity.