Submitted by

At the Ready Ma...

on Sun, 10/01/2017 - 19:25

By, At the Ready Staff with Steve Williams, Firefighter/Medic and CEO of AWOGS
On December 3, 1999 six members of the Worcester (Massachusetts) Fire Department perished while fighting a blaze at the Worcester Cold Storage and Warehouse Co building. On that day twenty-seven firefighters went into the Cold Storage and Warehouse Company building trying to locate two homeless people believed to be living there. The blaze was intense and difficult to get under control. Eventually twenty-five of the twenty-seven exited the building but two had become separated and were believed to be trapped inside, according to Boston.com. A four-man search team re-entered the building and used thermal-imaging cameras to try and rescue their trapped brothers. All six perished that day.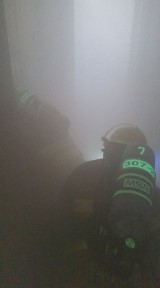 The following day, Steve Williams of Fulton County (Georgia) Fire Station 7, was working the A shift and heard about the Worcester Six. He decided that he was going to figure out some way to help firefighters get out in similar scenarios. "As a Firefighter/Medic on an ALS engine in South Atlanta, I knew what accountability problems we had and that AWOGS could address some of them. The material itself glows from heat and/or light, and had the ability to be seen through thick smoke. I would then custom make the material in any shape or design to identify the firefighter with numbers, names, or rank on helmets, SCBA's and helmet shields", said Williams.
The first concept Williams developed was more a system than just a way to make firefighters more visible in thick smoke environments. "In the beginning, AWOGS stood for A Way Out Guidance System. It was a system of signage with the glow material on two sided arrows with a number in the middle that was a location and the distance to an exit on either side of that number. They glowed, reflected light and could be seen with a TIC." The initial AWOGS design evolved over time. Williams explains, "That middle location number was then placed at that exact location on a large laminated pre-plan that could be folded and put into an engines territory book. On one side was the locations of the numbered signage, with a detailed layout of the building. The original idea was to use this in commercial, industrial and manufacturing facilities. On the other side was a top satellite view of the building that details the roof type, any type units, water towers AC units and skylights."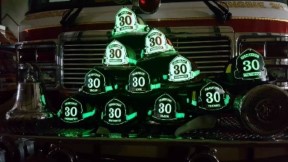 In getting the AWOGS idea off the ground, Williams ran into some of the usual problems innovators and entrepreneurs face. "After many years of trying to get that off the ground, I had little success mostly due to the huge start-up costs and fire code changes that would be needed to get it installed and do what it was created for", he said. With every setback though, comes lessons. Williams learned a few from the initial attempts to get AWOGS going. "One day I took what I learned from that, and with material on hand, I made decals for my helmet for fun. After all, I knew how good the material was and what it did. For the first few years I went station to station in the Atlanta area, selling them from my truck. It was hard, but it slowly took off. It was then that I kept the AWOGS name, but it now stood for A Way of Getting Seen."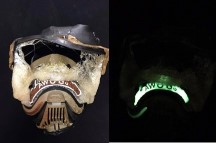 Testing plays a crucial role in product development. It is the best way to discover any "bugs" or design flaws that may exist with the product. You put the product in the hands of the intended user, they use it in the intended environment, you collect data and from there, make any necessary changes. AWOGS is no different. Williams explains, "In the beginning, most testing was done in the field by myself, fire instructors and other firefighters. No one was able to burn up there AWOGS, unless they destroyed their helmet. There were a few of those, but even then, the decal still reflected and kept its shape." In the hands of the intended user? Check. "AWOGS then had a company that tested for NFPA and ANSEY test our materials, the material by itself and on SCBA Masks. They first tested it at 160 degrees for 16 hours, then at 350 degrees for 30 minutes, then finished up at 500 degrees for 5 minutes. We had NO melting, dripping, or charring," Williams expalained. "All firefighters know that everything shrinks when at extreme heat temperatures. You can have less than 10% shrinkage and pass, AWOGS had 7%." In the intended environment? Check. Williams took the testing a step further and found some surprising results. "I recently had two SCBA mask sent to be tested and was surprised to see that the lens of each mask failed at the 500 degrees for 5 minutes. The AWOGS facemask identifier that was attached to those masks did show discoloration, but maintained the lettering and still glowed."
Today, more than 400 Fire Departments use AWOGS, including Atlanta, Virginia Beach, Fairfax, Alexandria, Richmond, Norfolk, Albuquerque, Bakersfield, Killeen, Cobb County (GA), and almost every city and county department in the metro Atlanta area. To learn more about AWOGS, visit their
website
,
Facebook Page
, or reach Steve Williams directly at steve@awogs.com or 678-525-6828.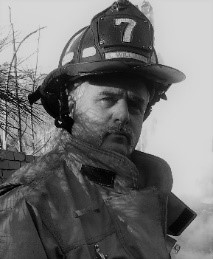 Steve Williams started his career in 1989 as a Volunteer Firefighter in Yatesville, Georgia. In 1991, he moved to the North Side of Atlanta where he took an EMT job at Metro Ambulance. In 1996 he earned his Paramedic license and began working at the Fulton County Fire Department, where he works to this day.