Submitted by

At the Ready Ma...

on Wed, 01/31/2018 - 23:16

Editor's note: Underground and technical rescue is a highly specialized field within the first responder disciplines. At the Ready is providing resources for free awareness courses for first responders online. The courses are not intended to and do not purport to train or replace training for any responder at any level of technical rescue certification.

The Virginia Task Force for Urban Search and Rescue 2
has a series of
free courses online
,
Including Structural Collapse Awareness
,
Trench Rescue Awareness
,
Confined Space Awareness
, and Critical Incident Stress Awareness.
Confined Space Awareness
An article originally published in the February 2011 issue of Occupational Health and Safety offers a free
Confined Space Awareness
available online. From the article, "Sometimes, confined spaces are difficult to recognize because the space does not appear hazardous or because workers enter it routinely as part of their job duties. Confined spaces can contain potential hazards that are capable of causing severe injury, illness, or death to a worker. According to data collected by the U.S. Department of Labor, 92 confined spaces fatalities occur on average per year."
Technical Rescue Awareness

The Massachusetts Fire Chiefs Association and the Massachusetts Department of Fire Services offer a free online course,
Awareness of Technical Rescue
. This PowerPoint presentation includes the laws and regulations (Osha, NFPA, etc.) governing technical rescue training and operations. The slides cover the topics of rope rescue, confined space rescue, and trench rescue, and are online, and free to view.
Trench Rescue Awareness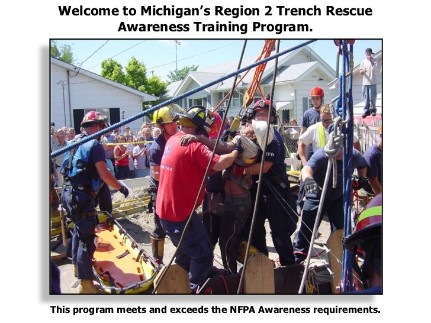 The Michigan Region 2 offer a free
Trench Rescue Awareness Course
. Released in 2011, this course is online and free to everyone. The Photo to the right was taken from the Introduction slide. In 2011, This Michigan course reported that it exceeded NFPA Requirements.