Submitted by

At the Ready Ma...

on Sun, 12/31/2017 - 20:56

At the Region is an ongoing feature that discusses the state-by-state training, certification and employment requirements of first responder departments across the nation. In this issue, At the Region looks at EMS requirements in FEMA Region VII: Iowa, Kansas, Missouri, and Nebraska.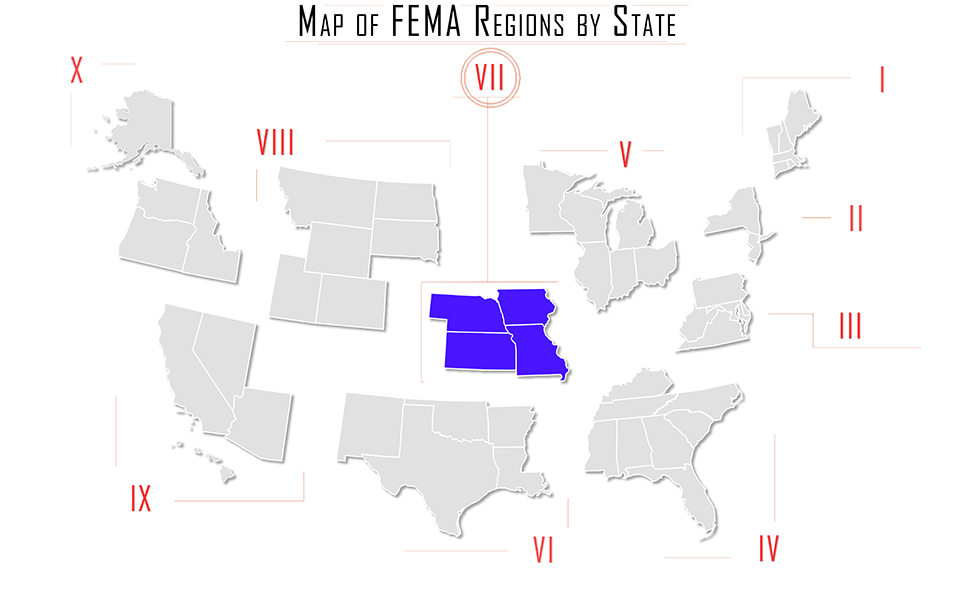 Emergency Medical Technician certification levels result from a combination of national requirements and state-by-state regulations. All EMT training must meet minimum standards provided by the
National Highway Traffic Safety Administration (NHTSA)
; this includes fundamentals in areas such as anatomy, medicine, and trauma, but states determine the final designations and requirements. An independent organization, the
National Registry of Emergency Medical Technicians
(NREMT), also provides guidelines, and, although these are not mandatory, NREMT exams are used as the basis for certification at one or more levels in 45 states. Because of the variation in training, the NREMT national certification as an EMT does not equate to a license to practice, and transferring local certification depends on state-by-state reciprocity agreements.

Iowa
The
Bureau of Emergency and Trauma Services
(BETS),under the Department of Public Health, oversees the development, implementation, coordination, and evaluation of EMS programs in Iowa.
Eligible applicants for EMT certification must, at minimum:
   •  Be 17 years of age
   •  Hold a current CPR card
   •  Be able to speak, read, and write English
   •  Pass a criminal background check
In order to obtain certification, applicants must complete an approved course through one of the
training programs
in the state; all programs must meet 2005 National Education Standards for acceptance. Following the course, students must pass an examination provided for their level of application to complete the certification process. EMT certification is valid for two years, after which EMTs must renew their certification. Renewal
requirements
for continuing education vary by level. The application for recertification must be made at least 90 days prior to expiration.
Reciprocity
Iowa offers reciprocity to applicants who are NREMT registered at their current level of national certification, and EMT-Basic certification to members of the Army at the level of Combat Medic (91W) or Special Forces Medic (18D). When applying for reciprocity
certification
, the applicant should provide:
   •  Proof of NREMT registration
   •  A copy of the current State Certification/License
   •  Documentation of military training (if applicable)
   •  A $50 fee made out to the Iowa Department of Public Health
   •  A front/back copy of your Health Care Provider Level CPR (BCLS) card, or ACLS card for EMT-I99 and paramedic applicants
Additional training or testing may be required to complete certification; contact the Iowa Department of Public Health for more information at (515) 281-7689. If training is necessary, applicants will receive an EMS Endorsement Preliminary Approval Form, which can allow applicants to function as an EMS provider for employment purposes, or provide entrance to an Iowa training program.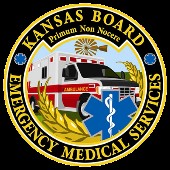 Kansas
EMT certification in Kansas is provided by a partnership of the
Kansas Board of Emergency Medical Services
(KBEMS) with the Information Network of Kansas. Applicants must complete an educational program that meets USDOT National Standards, and either register with NREMT or complete a state written and practical application.
Certification renewal is required every two years, and can be completed through the
Kansas State Renewal
page once applicants have completed the required continuing education hours. A breakdown of the requirements by level is provided
here
.
Reciprocity
Reciprocity is offered to EMTs who are NREMT registered and have completed training that meets the USDOT National Standard Curriculum, or NREMT Standards at the level of certification requested. Training will be reviewed and must be found to contain at least 90 percent of the content in the Kansas Emergency Medical Services Education Standards; missing training outside of these guidelines must be obtained from a Kansas-certified EMS Instructor-Coordinator or training officer prior to certification. Applicants are required to submit a < ahref="http://ksbems.org/ems/forms/legal_recognition_5_15_09.pdf">two-part application, the second section of which must be completed by the applicant's instructor or a representative from the educational program attended.

Missouri
EMT licensing in Missouri is overseen by the Department of Health and Senior Services. To obtain a license, all applicants must be registered with NREMT at the level of application, and complete the
application form
and addendum to be submitted to the Department. Once the request has been approved, the license will be emailed to the address provided on the application; renewal notices are also sent to this address 120 days prior to expiration, so make sure to notify the Department if an account is no longer in use. Applicants must complete a criminal background investigation at the time of application, which can be conducted through either:
   •  The Missouri Highway patrol – this option is available to applicants who have resided in Missouri for the past five years
or
   •  An FBI Fingerprint background investigation – applicants who have resided outside of Missouri within the past five years must submit two "applicant"
fingerprint cards
along with the application.
When renewing an EMT license, applicants should submit the same form with the additional continuing education section also completed. EMT-Bs must complete 100 hours of CE credit every five years; a breakdown of the required credits is provided
here
. Applications for license renewal must be completed no more than 120 days and no less than 30 days prior to the date of expiration.
To certify with NREMT, applicants must pass cognitive and psychomotor examinations conducted at an authorized test site. In order to be eligible for the testing process, applicants must complete a state-approved EMT course that meets NREMT standards within two years of taking the exam, provide verification from the Program Director that proficiency in EMT skills was demonstrated, possess CPR credentials for healthcare providers, and pass a state psychomotor exam. Applicants will also need to register on the NREMT website and pay a $70 application fee to obtain their Authorization to Test.
Reciprocity
Reciprocity is offered at EMT-B and Paramedic levels for EMTs who are registered with NREMT. Candidates for reciprocity should complete
the application
for certification and include all required information, including fingerprint cards for the background check.
**Special note for Veterans**: To provide recognition of the EMS training and experience obtained through Military Service, the Department of Health and Senior Services has promulgated regulations to provide for advance placement in EMT-Paramedic training programs. Within two years of honorable discharge or during active duty: Complete the application for initial licensure as an EMT-Basic, and submit your completed application to the Bureau of EMS with the following items:
   •  Two (2) completed FBI applicant fingerprint cards.
   •   Verification of current NREMT certification as an EMT-Basic
   •  A copy of your DD214, NG-22, or Common Access card
Upon verification and processing of your application, the Bureau of EMS will issue an EMT-Basic United States Armed Forces license. You may present your EMT-Basic United States Armed Forces license to any Missouri Accredited EMT/Paramedic training entity for evaluation to receive advanced placement into the training entities' Paramedic Training program.

Nebraska
The Nebraska Department of Health and Human Services licenses EMTs at the Emergency Medical Responder, EMT, AEMT, and Paramedic levels. In order to be eligible for licensing, applicants must:
   •  Be at least 18 years of age
   •  Complete an
application
   •  Provide proof of US citizenship or legal immigrant status
   •  Provide a copy of a current signed Cardiopulmonary Resuscitation (CPR) certification card that includes adult, child, infant, and 2-person CPR from an approved organization
   •  Be registered with NREMT
   •  Submit the
appropriate fee
as provided in the structure
Completed
applications
can be mailed along with all required documentation to the Licensure Unit Department of Health & Human Services – Public Health, PO Box 94986, Lincoln, NE 68509. Applicants who have completed a DOT-approved course for their level of certification within the past two years, but who are not yet NREMT registered, may obtain a year-long temporary license to work under the supervision of an EMT licensed at the same or higher level. The application for temporary licensure may be downloaded
here
; this application must also be signed by the EMT agreeing to the responsibility of acting as a supervisor.
Providers must renew their certification by December 31st of every odd-numbered year for EMTs, or even year for AEMTs, EMT-Is, and paramedics. In order to complete the renewal process, applicants must provide one of the following:
   •  Verification of eligibility from the applicant's service physician medical director or qualified physician surrogate
   •  Completion of a state-approved examination with a minimum score of 70%
   •  Attestation of completion of continuing education credits as required
   •  Proof of NREMT registration
Applicants must also submit a copy of their renewal notice and proof of CPR certification at the appropriate level.
Reciprocity
Reciprocity is offered to EMTs who are NREMT registered and meet all other Nebraska requirements for licensing. In order to apply for reciprocal certification, applicants must submit all materials required for initial certification, plus a
Request for Verification of Certification/Licensure
from another State/Jurisdiction. The majority of this form is to be completed by the issuing agency, and includes training, examination, and certification history information.