Submitted by

At the Ready Ma...

on Wed, 01/31/2018 - 21:16

At the Region is an ongoing feature that discusses the state-by-state training, certification and employment requirements of first responder departments across the nation. In this issue, At the Region looks at Firefighter requirements in FEMA Region VIII: Montana, Wyoming, North Dakota, South Dakota, Colorado and Utah.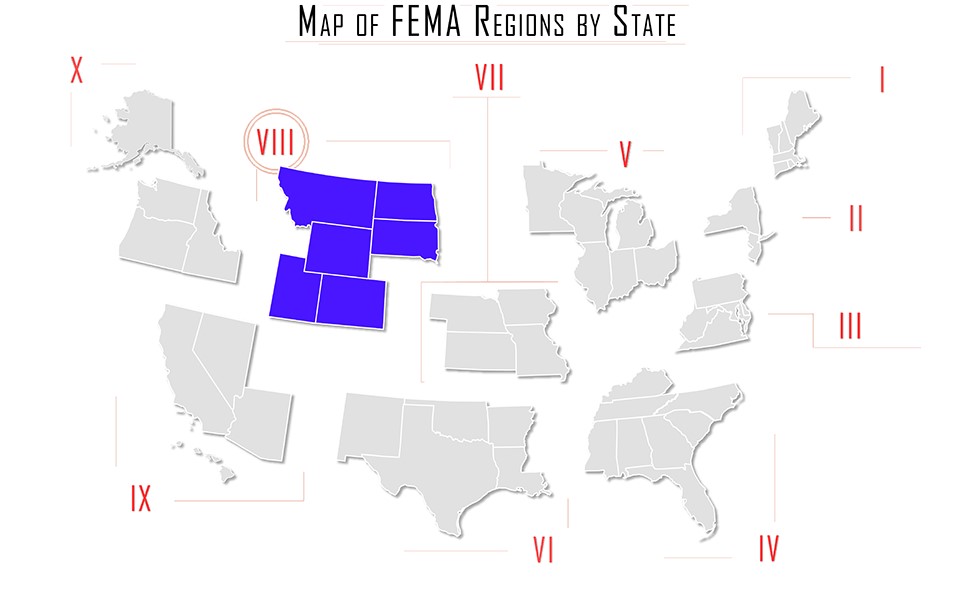 Colorado
Colorado Division of Fire Prevention and Control
governs all requirements for firefighters in Colorado. All firefighters must complete certification examinations and requirements within 12 months to receive certification at the level qualified. Each certification granted by CDFPC is valid for three years.
Firefighter I Certification:
   •  Must meet requirements in NFPA 1001
   •  Must be Colorado certified minimally in HazMat Materials Operations NFPA 472
   •  Pass a 100 question written exam with a 70%
   •  Pass a practical exam with 100%
   •  Pass a live burn practical exam with 100%
   •   Renewals must be made every 3 years, or the certification will lapse
Firefighter II Certification in Colorado requires one year of documented fire service, and a Colorado Firefighter I certification. A written exam must be passed at 80% and the practical exam at 100%. All personnel seeking Firefighter II certification must be affiliated with an Colorado Emergency Services Agency. For a copy of the policy and procedures (published in 2012) visit: https://docs.google.com/file/d/0B67htTDuFr48cU5hTGpicTJGZ1U/edit?pli=1 For Reciprocity information, see section 7, page 53: https://docs.google.com/file/d/0B67htTDuFr48cU5hTGpicTJGZ1U/edit?pli=1
Or contact:
Division of Fire Prevention and Control
690 Kipling Street, Suite 2000
Denver, CO 80215
(303) 239 - 4600
Montana
The Montana State Code 7-33-4107 lists the following qualifications of firefighters:
   •  Must be a citizen of the United States;
   •  Must be at least 18 years of age;
   •  Must be a high school graduate or have been issued a high school equivalency diploma by the superintendent of public instruction or by an appropriate issuing agency of another state or of the federal government;
   •  Must possess or be eligible for a valid Montana driver's license;
   •  Shall pass a physical examination by a qualified physician, physician assistant, or advanced practice registered nurse, who is not the applicant's personal physician, physician assistant, or advanced practice registered nurse, appointed by the employing authority to determine if the applicant is free from any mental or physical condition that might adversely affect the applicant's performance of the duties of a firefighter;
   •  Must be fingerprinted and a search must be made of the local, state, and national fingerprint files to disclose any criminal record; and
   •  May not have been convicted of a crime for which the applicant could have been imprisoned in a federal or state penitentiary.
The Montana Firefighting Testing Consortium conducts annual testing and typically conducts a joint testing process every year during the month of June for development of a list of qualified candidates for the position of entry-level firefighter with its member-departments. Registration for the June 2018 testing is open. Testing will be June 4-7, 2018 in Great Falls MT. Click
here
to register. From February 1-March 23rd, registration will be $100.

North Dakota
The state of North Dakota does not have specific legislative requirements for firefighter certification. North Dakota Title 18 covers Firefighting in the state.
Each fire department
has its own qualifications and guidelines for training and certification.
Under 18-03, the North Dakota Firefighter's Association holds annual training and sets standards in the state. http://ndfa.net/ . The 64th Annual State Fire School is scheduled for February 22 - 25, 2018 at the All Seasons Arena & Holiday Inn Riverside, Minot ND. Registration is open, but all registrants must have a State of North Dakota log in
to create
a State of North Dakota Login ID.

South Dakota
Certification and qualifications for firefighters is determined by individual departments. Generally, firefighters must be 18 years old, in good health, and will train to become state certified, earning the "Blue Card" from the State Fire Marshal. Under the South Dakota Department of Public Safety, through the South Dakota State Fire Marshal's Office, The State Fire Service Training Program coordinates training for state fire school, district fire schools, National Fire Academy courses, and other special training classes. The program provides for the certification of firefighters, fire instructors, fire apparatus driver/operators, and fire officers through certified training programs. http://dps.sd.gov/emergency_services/state_fire_marshal/training.aspx



Utah

The state of Utah does not have specific legislative requirements for firefighter certification. Requirements for testing and employment vary by city and county. However, the Utah Fire Service Certification System (UFSCC) does have a Certification Standard that largely follows the NFPA 1001, 2008 edition, standard on Fire Fighter Professional Qualifications. The requirements listed in NFPA 1001, 2013 ed., Chapter 4 are:

   •  Meet the minimum educational requirements established by the authority having jurisdiction
   •  The Utah Fire Service Certification Council Policy 11.3 requires that a candidate must be 18 years of age to test and be certified
   •  Meet the medical requirements of NFPA 1582, Standard on Comprehensive Occupational Medical Program for Fire Departments, chapter 5, subsection 5.1.1, as determined by the medical authority of the Authority Having Jurisdiction
   •  Physical fitness requirements for entry-level personnel shall be developed and validated by the authority having jurisdiction. Physical fitness requirements shall be in compliance with applicable Equal Employment Opportunity regulations and other legal requirements


The following additional training requirements must be met before certification at the Firefighter I Level will be issued by the UFSCC. Emergency Medical Care -Applicants for state certification at the Firefighter I level must hold a current CPR certification and have received training in first aid. First aid training (see Appendix B) should include infection control, bleeding control and shock management. This training may be obtained through any organization that trains medical responders for CPR and first aid. A qualified instructor should teach these courses. Copies of the CPR cards (both sides) must be documented in the participants training record.






Wyoming

The State of Wyoming has a voluntary firefighter training program, administered by the Wyoming State Fire Marshall. Entrance requirements for applicants vary by location. Visit the state websites for For more information on training, the Firefighter I standards, and a complete list of prerequisites, and curricula Wyoming residents interested in becoming a volunteer firefighter should fill out a request.