Submitted by

At the Ready Ma...

on Sun, 10/01/2017 - 19:31

By Deputy Chief Riley Land
Up to this point I have been allowed to pontificate and espouse my theoretical views on how best to bring your UAS program on line and get it up and working within your respective agencies or jurisdictions. My grandiose ideas where encapsulated into AI 2, meaning acceptance, integration and implementation. I originally planned to further expand in this article about the implementation portion of our catchy formula, since I had put forth my ideas on acceptance and integration earlier, but since then I have been tested. An experience that was at the same time sobering and exhilarating and an experience that has given me the jet fuel to push even farther forward, onward, and upward, or throw my hands up, scream like a girl and quit. So far I haven't quit.
An awesome event took place on August 28- 30 of this year. Many people put in a lot of hard work and several of the leaders among them have provided insight and experience to make this event a reality. The Georgia Center of Innovation for Aerospace (COIA), in partnership with the Federal Aviation Administration and the Georgia Public Safety Training Center provided UAS teams from all over the state of Georgia a first ever chance to meet for three days and conduct panel discussions, view vendor exhibits, enjoy sidebar discussions, observe the latest technology in action and fly extremely challenging scenarios in a perfect real world setting and atmosphere. Amy Hudnall, Director of The Georgia Center of Innovation in Aerospace, Gary O'Neill, Senior Aerospace and Defense Specialist with GA Tech and Georgia Tech Research Institute and Tom Wilson, Federal Aviation Administration UAS Program Manager and Chris Wigginton, Executive Director of the Georgia Public Safety Training Center are those that must be mentioned for their efforts. There are many other organizations and individuals that should be named and thanked but space being limited in this article I will focus on the outstanding program conducted and the valuable and worthwhile information and data collected for future innovations in UAS applications in public safety.
At the registration desk half way through the first day I counted 84 persons that had signed in and eventually there would be 20 teams slotted for participation in the actual second day mission flights. Obviously, not all of the attendees came for the flight portion but some were there to listen to the presentations, view vendor displays and speak with other attendees about their programs and to get helpful hints and tips about starting their own UAS program. The first day of panel discussions and information presentations were certainly interesting but I could feel a sense of anticipation in the air among the participating flight teams. There were cordial attendee interactions on breaks and in the smoking area and I could tell there were some that had friendships and working relationships that went way back. I knew a few of the people there but I spent a good portion of that day mentally going through my checklists of equipment and things to do before the big day of flying. That evening I had no interest in going out to dinner and drinks since I knew I wanted to be sharp and ready for the scenarios the next day. Even though there were batteries to top off and paperwork to fill in and check, my spotter and I did run out for a quick dinner at the local Mexican restaurant. It was an incredibly un-natural act for me to eat Mexican food without a margarita or two, but I passed on the intoxicants as a real show of commitment to the next day's challenges. My sincere thank you goes to my spotter, Capt. Brent Morris, who drew the short straw just a couple of weeks before when I conned him into another job on top of the several that he already fills for the department. During the two weeks he endured several briefings on UAS equipment, flight dynamics, search strategies and tactics and a trip to the field for hands on spotter work and one turn on the UAS controls and he's in. He's not a drinker and has way too much energy and commitment for a guy his age and number of years on the job. Remember when I told you to associate with people that you can trust and that have at least as much or more commitment to excellence than you. Brent is one of those guys.
We met out in the parking lot the next morning at 0600 for the short ride down the road to the training center for a pilot and team briefing at 0700. Arriving in time for breakfast in the training center cafeteria we found another team waiting for the serving line to open. We struck up conversation with the two teams from the Columbia County Sheriff's Office and a new and welcomed friendship/kinship was born. Cool guys all with a great sense of humor. These attributes seem to be the common thread among UAS teams that I have run across thus far. It turns out that they were the only team present for this event that has actually been shot down. Our conversation revealed that on an earlier response in their county to a barricaded subject they were flying in to try and observe the individual through a window. The subject just happened to be a sharpshooter with a couple tours of Afghanistan under his belt. Long story short, one shot from a 30.06 from about 50 yards and the Columbia County Sheriff's team is a legend. One Phantom 3 bites the dust but a great story is forever there for the telling.
At the FAA check in table all teams were required to turn in their team paperwork to include member names, proof of registration for all UAVs being flown and then present either a copy of their COA or Part 107 license. As it was presented to us in the briefing, there were to be a goodly number of FAA personnel on site and there would be at least one at each of the check in tables at the five scenario locations. We were somberly advised that these FAA personnel were not here for enforcement actions but if there were to be an accident there would be a complete cessation of all flight operations and UAVs would be grounded until the investigation is completed. Simply put, the fun would be over for everyone if somebody goofed up. No pressure at all there. A very well thought out schedule of teams and scenario start times was handed out so that each team would know at which venue to be and at what time. Each team was allotted 30 minutes at each flight venue to complete the assigned mission. With the number of teams participating and the number of flight venues the day was scheduled to run from 0730 hrs. until 1700 hrs. with an hour and a half wedged in for lunch. To understand the size and scope of the training center and the complexity of the flight events it would help for you to know a little about the Georgia Public Safety Training Center or GPSTC. The center encompasses right at 1,000 acres and includes a very large conference center, a training center with what seems like a million classrooms, a full size gymnasium, and dormitories. Onsite is a fully equipped firefighter training complex, multiple firearms training complexes, a mock village that looks like most small towns in Georgia, a huge driver training complex, lakes and many other challenging training venues. I'm sure most of you have a similar or larger training complex of this type in your state but for an old country boy like me it's like going to training Disney World. Heck, it's big enough to have its own prison on site. Please take a minute to look it up
online
and you'll see what I mean. For Part two of this installment we will discuss the flight scenarios and lessons learned!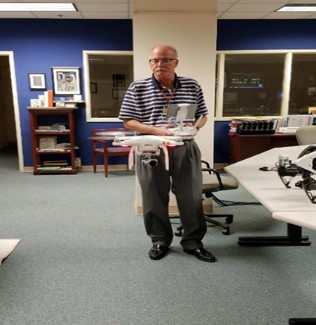 Deputy Chief Riley Land is the Deputy Director, Emergency Management and Homeland Security for the Columbus, Georgia Fire and Emergency Medical Services. He holds a Bachelor's Degree in Business from Columbus College and has been employed with the Columbus Consolidated Government since 1992. He is a Certified Emergency Manager and is responsible for the emergency and disaster planning efforts for the city as well as the coordination of all city, state and federal resources that would respond to Columbus in the event of a major emergency or disaster.
Other duties include the responsibility for planning and conducting training exercises for the City of Columbus. Deputy Chief Land has received specialized training in emergency management, trained with the F.B.I. and the Treasury Department in explosives post blast investigation, trained with the Department of Energy in radiological response to weapons of mass destruction incidents as well as training in response to chemical and biological weapons with the Department of Defense in the Federal Domestic Preparedness program. He currently holds an FAA license for UAS remote pilot. He purchased the city's first UAS in September of 2015 and organized the Emergency Management/Homeland Security UAS program for the city. The programs aviation assets now include a DJI Phantom 3 Pro and a DJI Inspire with visible light camera and FLIR.