Submitted by

At the Ready Ma...

on Sun, 04/01/2018 - 00:49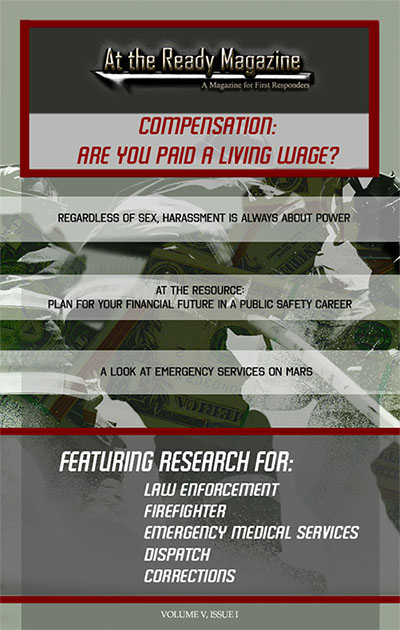 Welcome to April. We are so excited to present the first issue of Volume V! At the Ready begins it's 5th year and we appreciate all of our readers, contributors, and supporters for helping us get to this milestone. We look forward to serving you as, "the voice for those who respond first" for years to come.
In this issue we are tackling a pretty touchy topic: Compensation. We ask the bold question, "Are you paid a living wage?"
At the Ready's Mike Kennedy took a deep look at "How the Fields Fare." We looked across the spectrum of most common first responder disciplines, Law Enforcement, Firefighters, Emergency Medical Services Providers, Dispatchers, and Corrections Officers. And the results were, well, startling. Starting with the Methodology article, Mike breaks down the concept of a state's, "living wage" definition, which is different from the U.S. federal poverty guidelines. Then, step by step each discipline was analyzed and checked, and re-checked. The data speaks for itself.
While working on this issue, we recognize that many, many responders volunteer and receive no regular compensation at all. Perhaps a "per diem" or "per call" amount but responding is not their full-time career. For those that do work in public safety full-time, however, many do not make what MIT has determined is a "living wage" in their state. Understand this is the "mean" or "average" wage paid, so some make more, and some make less. This doesn't necessarily include any mandatory overtime either. But for public safety professionals, this may give us pause.
Don't forget to check out our regular feature, At the Resource, because we provided some great financial planning and opportunities for public safety professionals, including information on Public Service Loan Forgiveness of your federal student loans. Chief Avsec brings a very important article, At the Ready Thought Leadership: Regardless of Sex, Harassment is all about Power. Finally, we are introducing our newest feature written by Jim Sharp, At the Ready: Solutions. First up? Having a Plan Is Not Planning.
Enjoy the issue. We have a feature that allows you to subscribe to our magazine, using your email, which of course we will never sell, trade, auction, reveal, or provide to anyone else. Ever. So, make sure you click the "subscribe" button and ensure you never miss an article! After all, for five years now, we are here to help you stay At the Ready.
Warm Regards,
Dawn